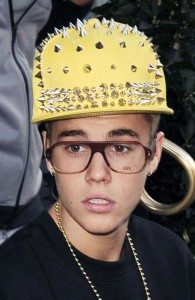 Justin Bieber, noted pop star and standard bearer of Canadian exceptionalism, was arrested early this morning in Miami for drag racing his rented yellow Lamborghini (classy), while intoxicated (smart), in a residential neighborhood of Miami Beach (responsible), with an expired driver's license (really?). Oh, also, resisting arrest.
Furthermore, he had two SUVs blocking off traffic on side streets so that the race could take place. Bieber was apparently racing an associate who was driving a Ferrari. Also while intoxicated.
And finally, it's coming to light that the singer's entourage had a police escort, prior to this incident, as he traveled from strip club to strip club. This is also being investigated, with city officials saying this was not approved and would be considered highly unorthodox.
I'm sure we can expect prosecution to the fullest extent of the law. When he gets off with probation, we can be secure in the knowledge that that is exactly the same punishment any of us would receive for racing a sports car while drunk and high in someone's neighborhood without a driver's license before fighting with the police.
More like this:
Bieber Busted In Brazillian Brothel Brouhaha
The 5 Best and Worst Music-Related Super Bowl Commercials Of All Time
Justin Bieber Streams Backpack Featuring Lil Wayne