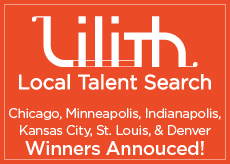 Attention Lilith 2010 fans & hopeful artists! It is time for another installment of winner announcements for the Lilith Local Talents Search Competition.  This time the good folks over at Lilith have set their sights on the artists of the Midwest. Thanks to the fans, we are proud to announce the winners for Chicago, Denver, Indianapolis, Kansas City, Minneapolis and St. Louis.
The artists from these cities went through one of the most competitive rounds in recent OurStage history and managed to come out on top.  After their hard-won wins, these artists have the fans to thank for the amazing outpouring of support. And, Sarah McLachlan has the fans to thank for helping her find some of the best up-and-coming talent, right here on OurStage! See the list of winners below:
Sometimes it takes another person to point out something about yourself that you're unaware of. In the case of Kansas City native Sara Swenson, that other person was a clerk in a guitar shop and that something was singer-songwriter. Swenson wasn't one at the time, but took it as a challenge and began to write and perform. A few years later in 2009, she was dubbed Kansas City's Singer-Songwriter of the Year. This doesn't make that guitar clerk a soothsayer, just a great listener. Swenson's talent is audible with just a few strums of her guitar, as her new single, Be Not Far, demonstrates. Spare, bluesy and terrifically romantic, the track shows off the gentle husk of her singing. A pedal steel drifts around low strums of acoustic guitar, adding a bright counterpoint to the quietude. Although warmth and calm prevail throughout the song, when Swenson's voice lilts up into a higher register towards the end, you may get chills. This doesn't make Swenson some sort of supernatural force, just a great singer-songwriter.

Jason and the Argonauts sailed to ancient kingdoms in quest of the Golden Fleece. Milo and Otis traipsed through the countryside to find their way home. Some odysseys span continents, others take place in the backyard. In the case of Kansas duo, Empathy, the journey takes about 5 minutes but the places you'll go are innumerable. Comprised of 18-year-old Sean Morey and 17-year-old Ryan McAdoo, Empathy churns out epic, daedal piano pop odysseys featuring two pianos, two voices and an emotional heat that belies their young age. Shades of Gray has a cascading piano part that isn't too far off from Vanessa Carlton's A Thousand Miles. I want more than enough, more than just someone, more than love can afford. It's a big sentiment, but one delivered earnestly by McAdoo (who possesses a limber set of pipes). Sure, there are whiffs of theatre kid in the delivery, but the music is so engaging you don't mind the precociousness. Falsetto harmonies, soaring pianos, odd time signatures and multi-part arrangements make McAdoo and Morey a combination of Ben Folds and Meatloaf. Give them a spin and enjoy the ivory odyssey.