A few months ago, we featured a post celebrating twenty great years of music by Opeth (which you can read here ). Obviously, we have lots of respect for Mikael í…kerfeldt and company. They're progressive death metal juggernauts who never seem to disappoint fans and critics. Despite numerous great albums, amazing tours and boatloads of positive critical reception, they're still hard at work, releasing their tenth album Heritage earlier this year. Not too long after our article was published, we were able to put together an interview with the frontman of this iconic band, and it was well worth the wait.
OS: Opeth has been in the metal world for quite some time now, and you're considered by many to be one of the best metal bands of all time. What helps you put out such great material so consistently?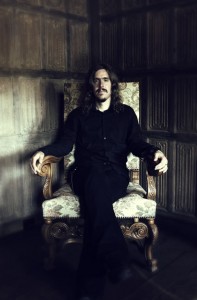 Mí…: Well, we don't really regard ourselves in any way as one of the best bands or whatever, we just try to write and record music that we want to hear, and I guess the big difference is that we have a wider range of influences than your regular metal band. I mean, we've been around a while of course, but really we've just been putting out records we want to listen to, first and foremost, and I guess we've just been fortunate that other people like that shit as well.
OS: Speaking of that, the critical reception of Heritage has been pretty great, and it sold pretty well, even though it's quite different than your other material. How do you feel about the album's reception so far?
Mí…: I'm pretty happy with it I think, but I don't really go looking for it. I'm not really seeking approval from anyone. You know, even if I like getting good reviews and people telling me they like the new record, it doesn't really matter so much for me anymore, I can't really say why. I love it, you know, and that's all that matters.¦If you go on the Internet looking for some type of approval you're gonna end up with a lot of shit too, and I don't really need that in my life right now, to be honest. (more…)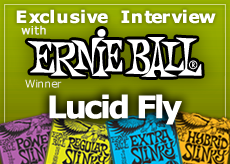 The Ernie Ball Competition on OurStage has awarded free strings to some of the hottest artists on the site, giving them that extra little push they need to keep the music coming for a whole year longer. With their ethereal vocals, driving rhythms and soaring choruses, west coast hard rockers Lucid Fly are no exception. The California quartet climbed all the way to the top of the Hard Rock Channel in March with their song Blind, and landed themselves a year's supply of free strings and accessories from Ernie Ball. We recently caught up with guitarist Doug Mecca to get a little insight into their musical world, their influences and to find out what's on the horizon for this up-and-coming act. Check out our exclusive interview below, and for more information and tunes, hit up Lucid Fly's OurStage profile. Don't forget that artists in the Indie Pop Channel are currently battling for the Ernie Ball grand prize, so if indie pop is your bag, go show them some love in the judging department!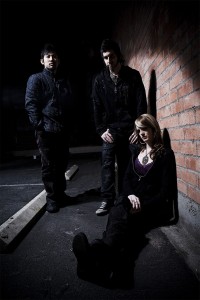 OS: You guys relocated to Los Angeles from Florida a few years back, how has that change affected your fan base? Any major differences between east coast and west coast followers?
DM: Since we moved we've had to connect virtually (mostly online) with our fans back east while building a name as a new band in LA.  We're in a much bigger city now and the diversity and numbers out here are amazing.  We were attracted to that more of everything that LA exemplifies and we've been loving that"both as artists and as music fans ourselves!! If anything we realize more the similarities"word-of-mouth is still the greatest way to find new music and to be found. We all enjoy sharing things that move us.  Every week we find new music and fans not just from the east and west coasts but also Canada, Mexico, South America, Europe, Japan, Australia¦ with the technology of  the web and social networks, Internet radio, podcasts and of course sites like OurStage.com that give independent bands a platform to be discovered!!
OS: You mention in your bio that as a band, you are constantly evolving. What are the next steps for Lucid Fly?
DM: We've been writing our next CD so we can't wait to start recording that and then get out there to tour and perform these new songs for everyone. The new music seems to be evolving in a more dramatic way and naturally lends itself to something more visual both onstage and in video.
OS: Who are you listening to right now? Is there any band or artist in particular that's had a noticeable impact on your writing style?
DM: We've been really into some amazing bands from Australia like Karnivool, Dead Letter Circus, Birds of Tokyo¦ there's something going on there and we can't get enough of whatever that is! Also bands like Katatonia and Baxter are still getting serious rotation in our playlist lately, both from Sweden incidentally.  Music from there seems to have this dark and mellow quality even when it's heavy. Maybe it's the cold weather and dark winter thing but we like it. Haha.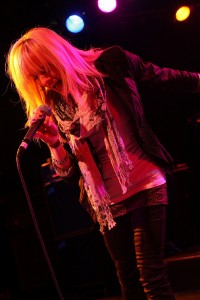 OS: How do you utilize online tools to reach new fans? What do you think are some of the most important things for bands to do to reach new audiences online?
DM: We jump on any new social network that helps us find like-minded people"especially the ones that will filter people based on their music interest.  Sites like OurStage.com, Last.fm and Jango.com play songs mixed in where there's a good chance of overlapping tastes and we get lots of activity from those as well. The first thing we do when someone mentions an artist that we don't know is typically go straight to one of the big social sites because we want to hear the music!  The easier it is to find and hear, the better so we try also to make our songs easy to find. We feel that just connecting with like-minded people in general, online or off, is key.  Music is meant to be shared so we believe in genuinely interacting with people because it's rewarding, not for any motive. The more tools that make that easier, the better!
OS: What was your reaction when you found out you'd won the Grand Prize? Are there any shout-outs you'd like to make or people you'd like to thank?
DM: Woohoo!  It feels fantastic to be recognized and to know that people out there enjoy listening to our music as much as we do making it.  To be supported by Ernie Ball and OurStage is huge for us and other independent bands to be able to do this.  Everyone knows that it costs money to tour and record so a year's worth of strings and accessories was a very welcome and appreciated surprise! A lot of people have helped us get here and continue to create and we appreciate you all!! For sure everyone who's ever listened, downloaded or shared our music with their friends¦ you make this happen for us and we can't thank you enough.  Big love to OurStage and Ernie Ball for hooking up unsigned bands like us get heard!
Lucid Fly currently plans to get back into the studio some time this year so if you like what you hear, be on the lookout for more music coming soon.