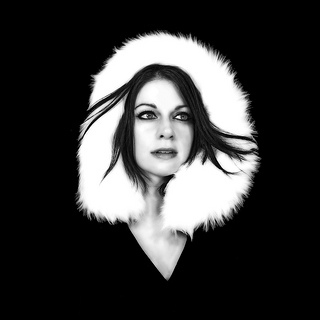 Having grown up in a family of truck drivers, OurStage artist Kate Tucker seems to have inherited from them a sixth sense for the state of the nation. It's a type of understanding that isn't based on national polls or facts, but on the accumulation of individual tales that, when woven together, depict the full American canvas. On her latest album, Ghost of Something New, Tucker offers acute insights into the national mood through intimate stories of love gone awry. Melancholy, yet hopeful, the collection of songs is at once a rumination on failed previous relationships as well as a depiction of a country that similarly cannot stop contemplating its own path and past.
In Tucker's lyrics, descriptions of romantic disappointment continuously spill over into distinctly American despair. When she sings Baby what you're saying / It ain't worth a dime / One more deal on main street / And you'll be doing time, the empty promises of a dishonest lover sound unmistakably like the deceitful Wall Street dealings that spawned recent financial crises. Populist rhetoric reminiscent of the occupy camps appears over the rollicking drum beat of "Revolution" as well; the singer asks her lover, Don't you want to start it / Start a revolution / Take it down to Houston? While Tucker's narrators may cling to the particularly American belief that it is always possible to start anew, they are more likely to ruminate on the improbability of that same dream, falling "back into the distance / Searching for some old ancient truth."
Like her aimlessly wandering lovers who vainly mine the past for guidance, Tucker's America can only weakly imitate its own outdated victories. Ubiquitous pop clichés are repeated in strange semantic inversions ("I'm gonna get you over") and familiar instrumental conventions of folk and Americana emerge from the arrangements like ghostly spectres. Lap steel and harmonica hide in the background mix while weary, fuzzed-out electric guitars languish in gallons of reverb. Over the swell, Tucker delivers her lyrics in a breathy alto, at times no louder than a hushed whisper. While this all may give the impression that Ghost of Something New is disconsolate and moody, the album doesn't discount hope as an impossible commodity. As the closing track "New Orleans" builds to a climax, its single-note piano line becomes subtly dissonant and faltering, but doesn't fall apart completely. It holds on until the last moment in order to deliver a final delicate chord. In this moment, missteps don't seem fatal, and the future isn't bound inextricably to failures of the past. It's a muted type of hope, but it exists, and it's as much as the lovelorn narrators of Tuckers songs can continue to long for.
Download Ghost of Something New at Kate Tucker's Bandcamp page!
More like this: