The Good
Armless teen plays Iris on guitar
Next time you complain about something not going your way, think about this story of turning lemons into Goo Goo-infused lemonade. George Dennehy, an 18-year-old high school student, was born without arms but that didn't stop him from picking up guitar and piano with his feet. Dennehy is one of four Tafi Yourtee scholars, an honor that goes to Virginia high schoolers planning to major in the peforming arts. Watch the tenacious teen tackle the Goo Goo Dolls' Iris below.
One Direction gets pregnancy pranked
What do a group of teenage boys do when faced with a woman in labor? Nickelodeon conducted a sociological experiment to find out, putting One Direction in the middle of a pretend delivery. While some members stand around awkwardly or run off to call their mum, Harry Styles emerges as the hero. Check it out below.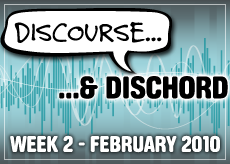 The Good
New MGMT album inspired by Lady Gaga, Kanye
After the wild success of their debut album, Oracular Spectacular, MGMT has turned to new sources of inspiration for their upcoming follow-up, Congratulations. In an interview with Spin.com, Andrew VanWyngarden cites Lady Gaga, Kanye West and surfing as influences for the duo's new material. The fame that followed Oracular Spectacular turned Van Wyngarden and Ben Goldwasser into the people we were making fun of. With Gaga and Kanye serving as a double-headed muse, will MGMT now turn into the people the rest of us make fun of ?
Sade releases first album in 10 years
This week Sade released Soldier of Love, her first studio album since 2000's Lover's Rock. Already the LP has hit the Number 1 spot in the iTunes digital store. Has the singer's soothing coo richened with age? Click here to find out.
The Bad
Michael Jackson's doctor formally charged
Dr. Conrad Murray was charged on Monday with involuntary manslaughter in the June 25th death of Michael Jackson. Murray entered a plea of not guilty in a courtroom that included Joe, Katherine, Jermaine, LaToya, Tito, Randy and Jackie Jackson. Bail was set at $75,000 " three times the normal limit for such a charge but probably petty cash for the King of Pop's doctor.
White Stripes seeing red over Super Bowl ad
After the US Air Force aired a commercial during the Super Bowl with a soundtrack that sounded suspiciously like Fell in Love with a Girl, the White Stripes took to their Web site to cry foul. The White Stripes take strong insult and objection to the Air Force Reserve's presenting this advertisement with the implication that we licensed one of our songs to encourage recruitment during a war that we do not support. The Air Force has since put the brakes on the ad, saying they commissioned an original score from an outside agency and that any similarities were unintentional. In other words, they don't consider it cheating.
The Ugly
John Mayer kisses and tells, again
The phrases "John Mayer interview" and "TMI" are eternally linked. In this case the victim of his loose lips isn't Jennifer Aniston, but Jessica Simpson, African American women in general and David Duke. In his interview with Playboy, Mayer dishes on sex with Simpson, and his member's distaste for women of color. It's pretty awful, which means it's a great read. Here's a link to the highlights.
Miscellany