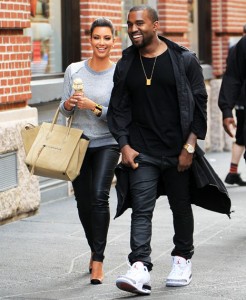 Kanye West and Kim Kardashian are living out a quintessentially American love story. Boy meets girl. Boy and girl start going steady. Then, when the time is right, boy and girl cement their commitment to one another with a reality show documenting their every move.
Hollywood Life is reporting that Kanye and Kim are looking to get their own reality show going. "Why not let the cameras follow [Kanye's] wild life and get paid a few million in the process?" the anonymously quoted source tells Hollywood Life. "[Kanye isn't going to turn any] money like that down. Not a chance. So if it came down to it, I'm sure he would. He [wants] the money, and to keep Kim happy."
It should be noted that Kanye isn't a complete stranger to the world of reality television. Ever since Yeezy made a few cameo appearances on Keeping Up With The Kardashians rumors have flown that the pair could potentially get their own spin off. That said, all reports about a possible reality show are based on speculation and conjecture at this point. Besides, Kanye probably doesn't even watch basic cable. In any case, here's hoping that the pair's potential plans for a reality series go better than The Game's.

Kim Kardashian Fighting With Kanye West Over Money & Pregnant With His Baby
Kim Kardashian, Kanye West Dating: New Couple's Playlist
Bruce Jenner On Kim Kardashian And Kanye West's Romance: 'I'm Not That Excited'
They say the only bad publicity is no publicity, but nothing has got to be better than the barrage of headlines about Kanye West and Kim Kardashian's current celebrity coupling that popped up online over a recent forty-eight-hour period. The good news is that by the time you read this, the union may already have gone the way of Kanye's recently reported dalliance with Katy Perry, or Kardashian's seventy-two-day marriage to basketball player Kris Humphries.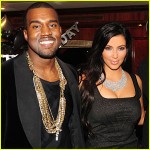 At least Kanye + Katy would have been a love connection that  made sense"if not from a romantic standpoint (Perry is probably too mouthy and headstrong to tolerate West's diva antics), at least from a business one. It could have been the low-rent version of his pal and sometime collaborator Jay-Z's marriage to Beyonce, with Kanye and Kim being the Mertzes to Jay-Z and Beyonce's Ricardos.
While an ongoing romantic relationship would guarantee Kim + Kanye (= Kimye) lifetime Us Weekly coverage, at what cost? Kim, who says she was friends with Kanye for years before they made their love connection, has everything to gain by dating Kanye. The seventh season of her E! reality series Keeping Up with the Kardashians begins on May 20, and the Kanye episodes should prove to be a ratings goldmine. Should Kimye make it all the way to the altar, a televised wedding would probably be the biggest thing since Prince Charles and Lady Diana Spencer at London's St. Paul's Cathedral, or Luke and Laura on General Hospital.
(more…)

On November 9, Nashville celebrated itself (again!) with the Country Music Association (CMA) Awards. For the fourth consecutive year, the event was hosted by Carrie Underwood and Brad Paisley, but the masters of ceremonies weren't the only thing that gave me that old deja vu feeling. Hadn't these accolades already been handed out just a few months ago?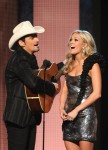 Wait, those were the Country Music Television (CMT) Music Awards in June. And before that, there were the Academy of Country Music Awards. And, just in case that's not enough Music City honors for you, there are the 2nd annual American Country Awards coming up on December 5.
Pop and R&B are just as self-congratulatory, offering the MTV Video Music Awards, the MTV Europe Music Awards, the Billboard Awards, the American Music Awards, the Teen Choice Awards, the BET Awards, the BET Hip Hop Awards, the NAACP Image Awards and the Soul Train Music Awards.
Then, of course, there are the GRAMMYs, which following so many other back-slapping fests, have been losing their lustre for years now"though that's hardly the only reason. Winning one used to be the musical equivalent of snagging an Oscar, but now its just more clutter for the awards shelf.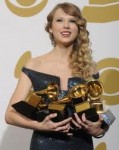 In a few weeks (November 30, to be exact), the National Academy of Recording Arts and Sciences will announce the nominees for the 2012 GRAMMY Awards (to be held on February 12). Doesn't it already feel like we've been there and done that over and over and over already this year? Am I the only one who doesn't doubt that we're in for another repeat of The Adele Show, with a very special appearance by Lady Gaga. Good as it is, like Christmas, I only need to sit through it once a year.