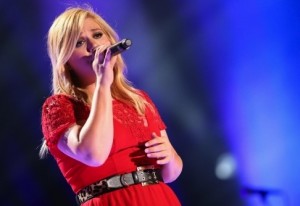 First Mary J. Blige, now America's first reality show idol? I guess the holiday season is officially underway.
There comes a point in the career of most pop stars when they eventually cash in on tradition and release a collection of reworked holiday classics. This is the year Kelly Clarkson makes that move, and, in addition to delivering new versions of some of your favorite holiday sing-a-longs, she's also offering a potential new classic with her single "Underneath The Tree." The track addresses that key aspect of Christmas in an upbeat fashion that falls somewhere between "Rocking Around The Christmas Tree" and *NSYNC˜s Merry Christmas, Happy Holidays. You can stream the single below.
It takes a lot to make me love original holiday songs, but there is something so insanely catchy about "Underneath The Tree" that you know from your first listen it will soon be a staple at every Chrismas party, office holiday celebration, and drunken get-together in between. Comment below and let us know your thoughts.
Wrapped In Red, the holiday themed release from Kelly Clarkson, hits stores October 29. (more…)