"Take back Vanessa Redgrave
Take back Joe Piscopo
Take back Eddie Murphy
Give 'em all some place to go"
" Tom Petty, "Jammin' Me" (1987)
"Fuck Tom Petty!""Eddie Murphy
Oh, those crazy stars! What will they say next? And will they ever learn? What a tangled web they weave when they start to take pot shots at each other.
Celebrity feuds have existed since before the dawn of the pop charts. Eminem owes much of his early notoriety to cutting down to size the likes of Britney Spears, Christina Aguilera, 'N Sync and Moby in videos and on record. Meanwhile, off the record (though always totally for attribution), Katy Perry has never met a fellow chart-topper she wouldn't slag off.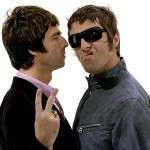 But lately, stars keep colliding and disturbing the peace in the music galaxy. Liam Gallagher just filed suit against his brother Noel over the latter's claim that Liam pulled out of a high-profile Oasis gig in 2009 due to a hangover and over comments Noel made blaming Liam for the demise of the band. But then brothers in arms have engaged in verbal"and occasionally, physical" combat since the heyday of the Kinks, which featured the dueling Davies, Ray and Dave. Chris and Rich Robinson of the Black Crowes, William and Jim Reid of the Jesus and Mary Chain, and Kings of Leon's Followill brothers have the battle scars to prove it.