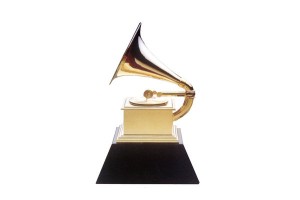 I feel like I might still be watching the Grammys. Is it still on? I can no longer distinguish the Grammys from reality. It was so long that the much-hyped finale, featuring Dave Grohl, Queens of the Stone Age, Nine Inch Nails, and Fleetwood Mac's Lindsey Buckingham, was like a minute in when the producers lowered the curtain in the form of promo ads for Delta and Hilton before running the credits and then just cutting out entirely. That was ridiculous, especially for those of us who hung in, thinking, 'well, at least there's still the finale to see.'
Do you know how many awards they give out during the telecast? I think it was fewer than 10. And it took them just under four hours to do it. YOU ARE OVERBOOKING, GRAMMYS.
There were a lot of performances, but the standouts alone would have sufficed. For my money, they were:
1. Daft Punk with Pharrell Williams, Nile Rodgers, and Stevie Wonder, "Get Lucky." In addition to the quality performance (Stevie Wonder should guest on all songs by all artists from now on), they had easily the best stage set in, I believe, Grammy history. It was a sick-looking '70s-era recording studio, in which the robot duo appeared from behind the control room glass. Inspired.
2. Imagine Dragons with Kendrick Lamar, "MADD City/Radioactive." It's easy to imagine dragons while listening to this band, cause you're usually asleep and dreaming 20 seconds in. But with Kendrick Lamar to fire things up, this was a blistering co-performance.
3. Beyonce with Jay Z, "Drunk In Love." No surprise here, this was a solid show-opener.
4. Sara Bareilles and Carole King, "Beautiful/Brave." With a simple dueling piano setup, these two harmonized beautifully on a mashup of their two songs. Carole King continues to prove that she's still a musical force, after over 50 years in the business.
Other: Paul McCartney and Ringo Starr reunited on a new Macca song "Queenie Eye," which is hardly the best song on his new album. Ringo played drums alongside Paul's (amazing) drummer Abe Laboriel, so it was really more of a photo-op than anything else. The way it's been hyped, you'd think these guys haven't played live together since 1970, but they have performed together several times over the years. Ringo also performed his '70s hit "Photograph" (a nice plug for his new photobook), befuddling teenagers everywhere.
Kacey Musgraves performed her hit "Follow Your Arrow" as though she were at the Grand Ole Opry circa 1983, complete with light-up boots and shirts and neon cacti. I thought it was actually kind of a cool throwback, considering what popular country music has become. To wit, she beat Taylor Swift, who hasn't actually released a country album since she was like 15, for Country Album of the Year.
Gary Clark Jr. and Keith Urban – this was nothing special musically, except that they are both great guitarists and each injected some much needed, old fashioned guitar soloing into the proceedings.
See the full list of winners below.
(more…)