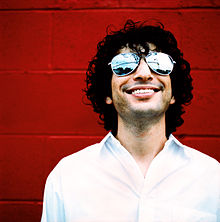 The late-'90s were kind of a dark time for pop-rock aficionados. In the time between faux-grunge and rap-rock, it was every man for himself. Luckily, our attention was grabbed by the fuzzed-out, off-kilter debut from Jonny Polonsky, who made the bulk of Hi My Name Is Jonny in his childhood bedroom. His demos found their way to Pixies frontman Frank Black, who pitched them to his then-label, Rick Rubin's American Recordings. The LP was not a smash, but those of us who heard it really loved it. Meeting someone else who got it is like finding a long-lost brother. "You know about this?! It's fantastic, right?!"
Polonsky released an acclaimed second solo album in 2004, then went on to a diverse career as a supporting member of many high-profile acts, including Puscifer, Johnny Cash, Nightwatchman, Pete Yorn, Dixie Chicks, and more.  He's finally back to writing and recording his own stuff, and he's launched a Kickstarter campaign to help release a new record, titled The Other Side of Midnight. It promises to be less crunchy and more dreamy, inspired by David Lynch (it was recorded at Lynch's Asymetrical Studio) and Depeche Mode. In addition, Polonsky is performing living room webcasts on Concert Window, starting TONIGHT. Do yourself a favor and check out both.
Here's his Kickstarter video. It's funny.