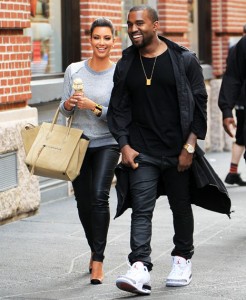 Kanye West and Kim Kardashian are living out a quintessentially American love story. Boy meets girl. Boy and girl start going steady. Then, when the time is right, boy and girl cement their commitment to one another with a reality show documenting their every move.
Hollywood Life is reporting that Kanye and Kim are looking to get their own reality show going. "Why not let the cameras follow [Kanye's] wild life and get paid a few million in the process?" the anonymously quoted source tells Hollywood Life. "[Kanye isn't going to turn any] money like that down. Not a chance. So if it came down to it, I'm sure he would. He [wants] the money, and to keep Kim happy."
It should be noted that Kanye isn't a complete stranger to the world of reality television. Ever since Yeezy made a few cameo appearances on Keeping Up With The Kardashians rumors have flown that the pair could potentially get their own spin off. That said, all reports about a possible reality show are based on speculation and conjecture at this point. Besides, Kanye probably doesn't even watch basic cable. In any case, here's hoping that the pair's potential plans for a reality series go better than The Game's.