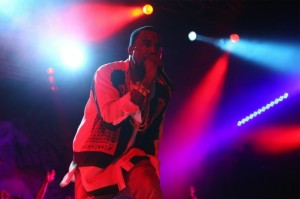 What a character Kanye West is. Sometimes he comes off totally bonkers, other times he appears to be an artist of a caliber so high that we can barely keep up with him. But the best is when both happen in one instance. Take his little impromptu speech at Harvard University last month, in which he veered from incoherent to highly-conceptual in the space of a single sentence. Now comes video of a November 8th performance in San Antonio, Texas, where Kanye has clearly had enough from some audience members who won't stop imploring him to remove his Maison Martin Margiela-created mask – part of his stage costume.
He tells the fans that they can see his face "every motherfucking day on the Internet" before stating his chief problem: "I came here, I open up a mountain…and you tryin' to tell me how to give you my art."
You do not fuck with Kanye's art.
He goes back to a freestyle explaining why he wears the mask, taking it all with a little humor, but then one woman continues to shout at him to take off the mask. He then signals to security to have the woman removed, to the delight of the crowd.
"Do I look like a motherfucking comedian? Don't fucking heckle me. I'm Kanye motherfucking West."
Kim Kardashian has nothing to do with this story, but now that I've mentioned her, way more people will read this. Hi, Kim fans!
More like this:
Why Kanye's ˜Bound 2² Video Could Have Been Great (And How Franco And Rogan Get It Right)
˜Why Watch This?' Wednesday
Kanye Goes To Harvard