Festival season is fast approaching, and impassioned fans everywhere have enjoyed obsessing over rumors and clues trying to decipher where their favorite artists will be playing this year. Some festivals have more fun with it than others, announcing various clues and misdirections, and some are downright cruel. Let's take a look at a couple of different ways festivals have revealed their lineups this year.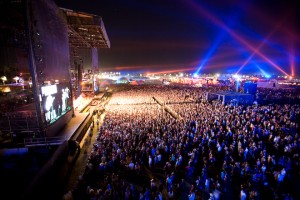 Coachella announced theirs late on January 18th, but not without getting their jollies first. Rumors that KROQ would announce the much awaited list at 5 PM were dispelled as lies and left plenty of anxious fans disappointed. They redeemed themselves just a few hours later, however, by unexpectedly posting the roster online. Some of the biggest names on the list include Kanye West, Arcade Fire, Kings of Leon, the Strokes, Animal Collective and the Black Keys. There are many, many more artists, of course, and Coachella can boast yet another killer lineup.
Bonnaroo took a different approach. Instead of teasing fans with false lineups or fake announcements, they posted a series of riddles that each correspond to an act or multiple acts. Here's an example from last year that will help demonstrate how evasive they can be:
Clue" The one monkey who was the warmest and his offspring.
Explanation (according to Broken Mic)"First, think of the band the Monkees. The warmest Monkee would be Michael Nesmith, because of his trademark wool hat. Now, another word for "offspring" could be "son". Put them together and you get Michaelson, or Ingrid Michaelson.

DJ JD Farmhound of Radio Bonnaroo has created riddles for the past few years and these teasers also seem to double as a marketing ploy. Here are the clues from this year:
Clue 1 – A trip to space thwarted by a speckled lad's demise. A watershed moment otherwise.
Clue 2 – Cecilia's dress code: Sheer
Clue 3 – Still up. A month now, maybe two. Don't call the priest, just find my guru.
Clue 4 – A veteran and magistrate, or a character of sorts. A throne one cannot abdicate, of which a crab can make a fort.
Clue 5 – Red, White and blue are all a part of this young palette. A farm heathen disguised among giants, the only Ten I see.
If you want to track the long chain of guesses and discussion, check out Roo Clues or Consequence of Sound.
Bamboozle revealed their lineup in a similar fashion to Bonnaroo. The key difference was in their delivery: they opted to post video clues on YouTube instead and the clues themselves were lengthier and a little less ambiguous. Click here to watch one of these perplexing clips and see if you're able to decode the bamboozlement.
To find out more about festival news, rumors and opinions in general, check out JamBase or Music Festival Junkies!
[Editor's note: according to coachella.com, festival passes are no longer available. Read: ya snooze ya lose!]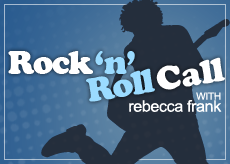 Don't be surprised if Portland, Oregon's Throwback Suburbia instantly remind you of Death Cab for Cutie or The Shins. After all, their album was created with the help of the same legendary producers who worked with both bands, plus John Lennon, The Who and David Bowie among others.
Though this roster is certainly impressive, Throwback Suburbia are well on their way to great achievements themselves. Their 2007 single "Circles" earned regular rotation on LA's KROQ radio station and became the most played song by an unsigned artist on several other national stations. They also landed television spots on Fox and FuelTV and were named Eastwood Guitars' favorite new act.
It's always nice to have a breath of fresh air in the pop-rock scene, even when the sound is, well, a throwback. This power pop quintet boast some retro '60s charm in their clean and simple song structures, perfectly timed harmonies and complimentary keyboard parts. The sweet and sugary "Head Over Heels" will definitely get you dancing, as the piano, bells and vocals make this feel-good tune a stand-out track. Soft-rock ballad "You'll Never Know" could easily be a Beatles song. The track is surprisingly hopeful as vocalist Jimi Evans sings, "Clear those cobwebs inside/Don't wait for tomorrow/You'll never know 'til you try."
After spending 23 weeks in the Top 100 on our Best of Pop Charts and sharing the stage with Rooney and The Gin Blossoms, Throwback Suburbia are on the fast track to hitting it big. Be sure to check out their latest album, Throwback Suburbia, on their official Web site!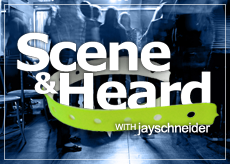 Everyone's heard the move to LA to get famous advice. Is it really true though? With a stream of wannabe musicians, actors and entertainers heading west, it's time we took a look into the music scene of Los Angeles, CA.
Home to Hollywood, LA is arguably the entertainment capital of the US. But, in true Scene & Heard fashion I'm going to delve into some music genres that I think are truly quintessential to different parts of LA.
The hardcore/punk scene found many of its roots in the South Bay area. Beginning in the 1970s, when punk was receiving huge press attention in New York and London, bands like The Screamers and The Dils called LA their home. As things progressed, South Bay spawned a collection of other viable bands including Black Flag and Youth Brigade. The '90s saw a resurgence in punk music in this area, including bands like NOFX, Bad Religion and Pennywise. And just like these punk roots, LA is equally known for the inception of hip hop and gangsta rap. With songs like Straight Outta Compton and "How to Survive in South Central," the area's name recognition is pretty good. After all, LA proudly boasts rap legends Ice-T, Dr. Dre, Eazy-E and Ice Cube as denizens.
While these genres are still going strong today and represent the essence of LA, the has become an absolute melting pot over of music the years. As mentioned, almost all aspiring songwriters, singers, bands and artists have thought about making the trip.  So what's the big deal? Simply put, everyone is there. Alongside NYC, LA has more venues, studios, production companies, sound design firms, etc. than almost any other market. Therefore, rather than competing with all of the artists in the market for 1 or 2 establishments, musicians have many more choices. This is the theoretical reason for making the trip, anyway.
So what are some of these fine establishments? I'll do my best to name a few venues to enjoy a variety of music but, really, I'll only be scratching the surface. The Echo on Sunset Blvd provides weekly music series, great live shows and even some live experiences outside of a traditional musical performance. The venue's upcoming calendar features themed dance parties, weekly punk shows and notable artists like Joe Pug and Mates of State. Brixton South Bay, defines itself with a speak-easy vibe, a 450-person capacity room and great live music almost every night. If you'd like to catch some music that is a little more easy-going, head over to Café 322 for jazz acts. The venue is an LA Times favorite where you can catch up-and-coming jazz artists and even learn some dance steps.
The inside scoop, however, comes from OurStage electro-pop/rock act Moving Picture Show. The band all agreed that the famous The Viper Room is hands down the most fun, most professional venue they've played. They also recommend that touring bands meet up with a good local act of similar genre to do a gig-swap. They'll be motivated to bring people to the show in hopes that you'll reciprocate the efforts when they come to your town. They also recommend Spaceland for a place with great local talent.
After catching up with the guys, it became clear that in the LA scene,  you need to turn heads. We're all a little ADD these days and are constantly getting overloaded with entertainment, pop culture, etc. So you have to offer people something more.
The band uses the abundance LA acts to their advantage though. They've learned to observe new bands, learn what to do (and also what not to do) and how to differentiate themselves. They spoke a little to the different aesthetics in the different areas (epic rock ballads in Silverlake and flashy power pop in Orange County), and went on to say that this alone has helped them to make a style all their own.
With the band's four-on-the-floor style and unique, indie singing methods, they're succeeding at their head-turning goal. Having shared the stage with Dave Navarro of Jane's Addiction and Matt Sorum of Velvet Revolver as well as a slew of regional acts, MPS is picking up speed. They've got a strong presence on the Locals Only show on KROQ with Kat Corbett. They've even had a song featured in Rock Band, which anyone knows is an indicator of notoriety. Keep an eye out for their new record and some regional touring.
Remember the words of MPS when heading to LA: It's¦a relatively small scene of dedicated bands, flooded with many fly-by-night [acts]. Sift through the noise, and check out bands like Moving Picture Show to get a true sense of LA entertainment.