These are exciting times for Darius Rucker. Not only is he out on the "Own the Night" tour with Lady Antebellum but he's ready to release his third album. The hotly-anticipated record will follow the much-loved 2010 release Charleston SC 1966 that debuted at the top of the country charts and his now-platinum debut album Learn to Live, which was released in 2008. And that's just the beginning.
He's musically partnered with a host of other artists, including Lionel Richie for a duet of "Stuck on You" which is on Richie's album Tuskegee. He also remains very involved in several high-profile charity events, including this month's Third Annual  "Darius and Friends" benefit show in Nashville which raised money for St. Jude Children Research Hospital.
Rucker took time out from his busy schedule to talk to OurStage about his new album, his current tour, and just what inspired him to become a musician, anyway.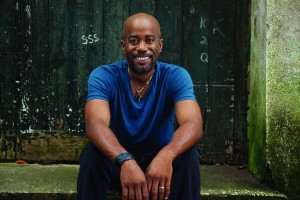 OS: So what can audiences expect at your upcoming shows?
DR: We will probably be playing the new single soon. When I play, audiences can expect a lot of music from both records [Learn to Live released in 2008 and Charleston SC 1066] and some cool cover songs. I'm just trying to have fun.
OS: On the fan boards, some folks say you always play Prince's "Purple Rain." Why do you play it so often?
DR: I always wanted to play it! The funny thing was, I was rehearsing with the band and my drummer (the band leader) said "Have you ever wanted to play 'Purple Rain?'" I had never played it because I didn't know if it would work in a country set. Now we always play it. If I don't play it, I get nasty emails. So we are always playing it now.