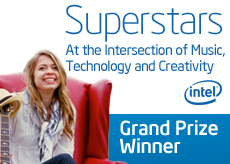 The Intel "Superstars" Competition wrapped up this past November, the culmination of a four-month long competition featuring over 13,000 songs entered by over 5,000 artists nationwide. Sara Lindsay, a young singer-songwriter from Lakewood, CA entered her song  Best of Me into the Intel Superstars Pop Competition in August and battled her way to the Top 20 artists in the channel, securing herself a place in the National Finals competition in November. Best of Me then made it to the Top 20 in the National Finals Channel, catching the attention of the judges and securing her place as the grand prize winner of the competition.
Lindsay not only walked away with $10,000, but also the opportunity to perform at the Intel booth at the international CES conference in Las Vegas. The experience gained her some new fans, some of them from countries around the world. Check out the interview with Lindsay below where she talks with OS about music technology, her performance, getting new fans and much more…
OS: CES is a huge consumer electronics conference. What was it like bringing live music to that kind of event? Was it an unusual performance atmosphere?
SL: I had never heard of the CES conference until this year so I had no idea how big it was (I was later told around 140,000 people) or how well a music performance would go over at an electronics event. I figured people were there to see computers and not a singer/songwriter they had probably never heard of. Though, either way I was still super excited! I was however, pleasantly surprised! I got to perform twice a day at the Intel exhibit and every time it would draw a huge crowd. People loved it! I think it was a nice change of pace amongst the craziness to get and listen to some music and relax for a bit. It was so fun to see people enjoying themselves.
OS: Can you comment on how technology plays a role for you as a musician and for other musicians out there?
SL: Technology these days is especially important for musicians! From one aspect you have all the music software now that essentially lets any musician do most of the work themselves. To be able to have things like Cakewalk and other creative programs makes having a home studio so accessible. Not to mention just about the only way to reach and acquire fans today is through technology. Social networking has changed the whole way the world functions but even more so the music world. It seems like in order to survive as a musician you need a Web site, iTunes, Facebook, Twitter, MySpace, email blogs, YouTube… the list goes on and on. It is a great thing to be able to get that kind of exposure yourself but sometimes it has to make you wonder…. how did The Beatles do it?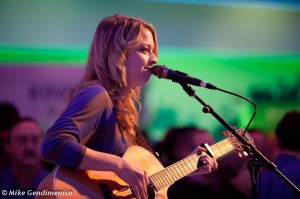 OS: What were the reactions of some of the people who stopped by the booth?
SL: I got a lot of good feedback. I wasn't sure how it was going to go since it didn't appear to be my usual demographic but they loved it! I had people asking for the next time I was playing and we had people showing up three or four times. I was able to sign the Intel DVD's after each performance and the response was always overwhelming. It was so fun to connect with so many people that I probably wouldn't have without this experience and in such a short amount of time.
OS: What was it like traveling to Las Vegas? Did you get to spend some time in the city?
SL: I had never been to Las Vegas so when I heard that's where I was going I was so excited! I found almost everyone on the plane was headed to CES so it was great to meet some of those people and find out all the good stuff that was going on. I got to see all the amazing hotels and even got to see a Cirque De Soleil show! It was so fun.
OS: Have you picked up some new fans as a result of performing at CES?
SL: I have picked up quite a few fans from the event; and better yet quite a few fans from all over! That was another really cool thing, that I got to meet people from all over the world. It was great to have so many cultures in one room. I had so many people say they were going to share their music all over their cities and that was so exciting to hear. I also got to meet all of the people at Intel whom I fell in love with! Everyone working in the exhibit were so kind and fun and I think I got a lot of new fans in them as well! They made it such a great time that I was sad to leave! I am so grateful to Intel for providing this opportunity and showing me such a great time.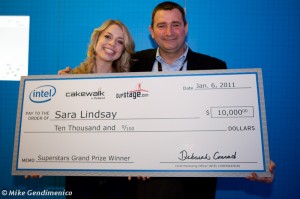 OS: Do you have any plans for what you might do with the $10,000? Studio time? New equipment?
SL: I would love to record a second album this year with that money. I've been itching to get back in the studio for sometime and just haven't been able to afford it. I would also love to do some touring and buy new equipment! At the conference I was able to play using the Blue microphones and Orange amps and the sound was incredible. So I would love to go buy me some of those!
OS: Can you explain how you felt when you found out you'd won?
SL: I really had no expectation of winning! I didn't even know I had won my category until I got a letter in the mail.  It was so exciting! I could not believe it. Ten thousand dollars is a LOT of money to someone like me and my age! Haha. Us musicians survive on lentils, bread and water so this was pretty life changing. On top of that, they added the trip to Las Vegas that I had no idea about so I probably sounded like nerd on the phone because I was so excited. There were SO many talented artist's competing that I really felt inferior and assumed I wouldn't win, so I feel very honored to have won amongst such talented people.
OS: How did you get your fans to come out and judge in the competition?
SL: The really crazy part about all this for me was that from the start I wanted to leave it up to the OurStage fans. I had previously won a competition on OurStage before where I hustled to get my fans to vote everyday. I thought since I had already exhausted that source for that month I wanted to win something because regular people who don't know me like my music. So I didn't tell a single soul! Haha  I think that's why I was so surprised that I had won. I just couldn't believe it and it was so rewarding and humbling to know that all these people whom I never met enjoy my music that much.  That's better than all the prizes in my opinion. And that is the beauty of OurStage and what I think OurStage is all about.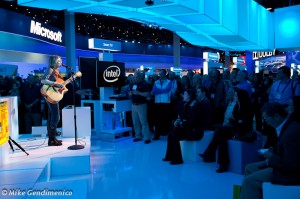 OS: How do you think this opportunity will further your career?
SL: You never know what is going to come out of these things. I met a lot of great regular people and a lot of great industry people. I think most importantly I was able to reach new fans and it was a confirmation for me that maybe I'm doing something right and should keep going. I'm going to keep working hard like it never happened and pray that more great opportunities come my way! Because of this I would love to eventually acquire some sponsorships or management or any assistance for that matter! But even if not, I'm going to keep writing and singing and performing because it's who I am.
OS: Is there anything you want to say to your fans and supporters on OurStage?
SL: I am SO so grateful to everyone involved in OurStage! Thank you so much to anyone who even voted for me once. As a musician, you create a song and hope that people like it and if one person does, then that's enough. So thank you from the bottom of my heart for giving me this opportunity. OurStage has provided so many great things for me and I'm so glad I get to be apart of this Web site and this community of fantastic musicians and fans.
To hear more from Sara Lindsay and to check out her OurStage EPK, click HERE.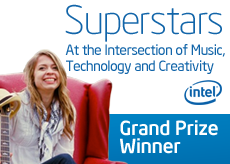 The Intel Superstars Competition kicked off in July, offering artists from around the country a chance to compete for laptops equipped with Intel® Coreâ"¢ processor technology and Cakewalk music creation software in genre-specific music channels including rock, pop, country, urban, singer-songwriter and Latin. The Top 20 artists in each of these channels earned a place in the Intel Superstars Finals Competition for a shot at winning $10,000!
Six months, 5,900 artists, 13,000 songs in 6 genres and over 220,000 votes later, a grand prize winner has been chosen by a panel of judges including Kristin Bredimus (OurStage.com), Bruce Tyler (former EVP Sony Music), Mike Rivet (Intel Corporation), Jimmy Landry  (Artist Relations/Cakewalk and former A&R, EMI and Capitol Records), Rev. MOOSE (VP of Content, CMJ Network) and Jason Jordan (VP, A&R  Hollywood Records).  Meet Sara Lindsay, a 21-year-old singer-songwriter from Lakewood, California.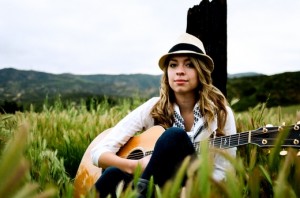 Sara entered her winning song into the Intel Superstars Pop Competition Channel and battled all the way to the top with her song Best of Me. It was that very song that caught the ears of the judges in the competition, landing her the $10,000 grand prize and a special performance slot at the Intel booth at the CES conference in Las Vegas. Join us in congratulating Sara Lindsay on her win! Stay tuned to the OurStage blog for our interview with Sara in the coming weeks. To check out the full list of laptop winners from the first round of the competition click HERE and HERE.