The headliners at this year's FloydFest"including Alison Krauss & Union Station featuring Jerry Douglas, Ricky Skaggs, Brandi Carlile, and the Drive-By Truckers"were  as amazing as you'd expect from internationally known and much-lauded musicians. But the real treat at the 11th Annual FloydFest, a four-day world music festival in Floyd, Virg., was arguably the array of up-and-coming artists certain to burst into prominence not too far into the future.
Amber Rubarth was clearly at the front of that line. Perhaps that's not surprising when you consider she's a fixture on New York's indie scene and has won such accolades as the Grand Prize in NPR's Mountain Stage New Song Contest. Her recent album A Common Case of Disappearing, which features duets with Jason Reeves and Jason Mraz, debuted at No. 13 on iTunes. Watching her spin her musical web of alt-country, folk tunes on various stages at FloydFest, one couldn't help but be struck by her poise and warmth, which translated into her music.
"I was really shy growing up," said Amberth when discussing her set. "Music gave me the outlet to be able to get out my feelings and get out things I wanted to say that were more personal, even if I couldn't say it in a conversation. It's really powerful for me. It's a way of healing, releasing, really."
Those feelings translated to the audience, too, when Rubarth joined the Ivy League Hillbillies set that had nine up-and-coming musicians on stage and when she played her own sets"including a brand new song "The Maiden and the Ram," that got the audience dancing.

Bluegrass legend Del McCoury gives me hope that I can be redeemed musically, even if I still have a lot of work to do to reach that state.
Let me note that it's probably not cool to use myself as an example, but I'm guessing that a lot of folks wonder if the musical joy they experienced as kids can be recaptured. After attending this year's DelFest during Memorial Day in Cumberland, Md., I have to believe it can.
I had originally intended to let Del McCoury tell you about DelFest, that just wrapped up its fifth season and is busting at the seams with attendees (the area's local newspaper reports expansion plans are underway). We'll let you hear from Del, of course, but after reading the non-stop CMA Fest coverage, the Bonnaroo dispatches, and the excellent Kindle single "The Same Coachella Twice" by Sean Howell, I thought some personal perspective might be useful, too.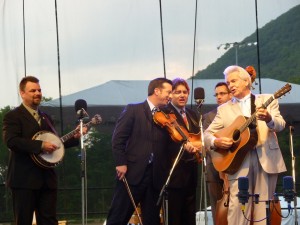 Let's start with some background about McCoury, who was a legend before the title was handed out like flyers advertising a tent sale. McCoury was first the banjo player, then lead singer and rhythm guitarist for Bill Monroe's Bluegrass Boys. We could go on and on about his career, which he put on hold for more than a decade so he could be close to home and help raise his family. Highlights include a Lifetime Achievement Award from the National Endowment of the Arts, membership in both the International Bluegrass Music Hall of Fame and the Grand Ol' Opry, and that's just for starters. You likely get the point.
Or part of it.
The real point is that although he's a hero to many musicians"Bruce Springsteen, Jon Fishman of Phish, Paul Stanley of KISS"he has never chased musical trends. And from what musicians tell me, McCoury never held those who did in contempt. Instead, he takes enjoyment and inspiration from all music, including that which he wouldn't play.
There's something in the bedrock of Boulder, Colorado, that's producing seismic improvisational rock bands. String Cheese Incident, Leftover Salmon, Yonder Mountain String Band all hail from this stretch of the Rockies, where the jam flows like lava. Ivory Drive is also from Boulder, and though there's no denying the jam element weaving through songs, the group also veers into jazz, folk, world music,even show tunes. Singer Van Wampler's distinctive voice is comparable to the thick warble of Steven Page (formerly of Bare Naked Ladies). On the jaunty Breath of the Victory March, he leads listeners into a theatrical romp, where horns streak across battering pianos. Hear Me Out is equally punchy " saxophone bleats and spaghetti pianos wind and ramble, jump and bob. But the combination of jam and Broadway is never more prominent than in the spirited swing of The Factory Machine. Jazz hands or noodle dance " both are welcome here.