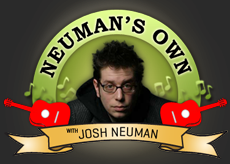 Ten years ago, a bed-stricken Joey Ramone, secretly suffering from complications from the lymphoma he had been battling since 1996, decided to plan a huge blowout for his 50th birthday. Sadly, Joey died a little over a month before the celebration could go down, but his mother Charlotte and brother Mickey knew that the show must go on. The party, which would benefit Lymphoma research, was held at the Hammerstein Ballroom on May 19, 2001. Debbie Harry, Richard Hell and Legs McNeil attended what would become an annual downtown ritual ever since.  This year's birthday bash, scheduled on what would've been Joey's 60th birthday, will be held at Irving Plaza this week.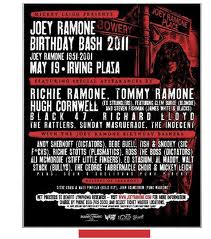 In retrospect, the Joey Ramone Birthday Bash proved to be a turning point in a larger punk rock community increasingly gravitating towards cancer as a cause. Certainly, the trend is affecting the culture as a whole as the response generated by Stand Up to Cancer, LiveStrong and The Truth can attest. But the punk spirit, long wary of causes, seems especially up for this one as cancer benefits are popping up all over the punk landscape: On June 7, Main Man Records will be donating a portion of the proceeds from Take It or Leave It, a two-disc tribute to The Runaways in honor of band member Sandy West, who lost her fight to cancer in 2006 and on July 15 and 16, Music 4 Cancer, originally a music compilation of punk and ska artists, will  participate in the Vans Warped Tour. And when an iconic punk musician like Ari Up! of the Slits succumbs to cancer, it's almost expected that a tribute concert benefiting cancer research is soon to follow.
If punk and cancer are increasingly finding themselves colliding against one another in the mosh pit, more often than not it's in order to raise money for a local, insurance-less personality afflicted with the disease. The Fuck Cancer Benefit at the Bowery Ballroom in NYC was held in honor of beloved band manager Jackie Farry who found herself insurance-less when she was diagnosed with multiple myeloma. In Florence, SC it was for scenester E. Allen Johnson. And in Chattanooga, TN it was in behalf of musician John Johnson, who had been recently diagnosed with pancreatic cancer.
To be sure, cancer is being embraced throughout the musical world: from pop to country, but something has clicked with punk, it's rebellious posture (or conversation of negation, as Greil Marcus might put it) has long been looking for purpose in a post-industrial America in which all of its signifiers have been co-opted by the mainstream (American Idiot, anyone?)¦. Inherently unglamorous, intractable and utterly raw and real, cancer and punk fit like deranged puzzle pieces.  It's as if the punk universe is saying to the larger culture: Try turning this into a commodity!