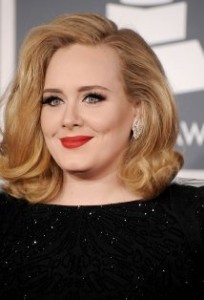 There have been hints and rumors for months that Adele was to pen and perform the theme for the most recent installment in the James Bond franchise, Skyfall. Hell, she apparently had a pretty good shot at doing the theme for 2008's Quantum of Solace alongside fellow Brit soulstresses Leona Lewis and the late Amy Winehouse. While that honor eventually went to the duo of Jack White and Alicia Keys it looks like the film's producers were nice enough to give the famously under-appreciated Adele another shot.
But really, Adele seems like a no-brainer for doing a Bond theme. She's British, and Bond (and his actor surrogate Daniel Craig) is British. Plus you're guaranteed some soul and some serious brass which harkens back nicely to some of the classic themes of the Bond franchise sung by Shirley Bassey. All of that is on display here though the track does start off sounding like a B side to "Set Fire To The Rain."
Check out the lyric video for Adele's theme for Skyfall, appropriately titled "Skyfall," after the jump.