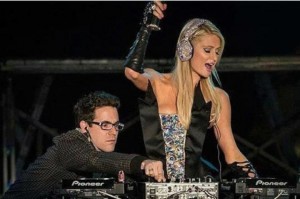 Earlier this month, Paris Hilton made headlines by announcing plans to launch a career as a house music DJ. Saturday night, America's favorite most famous heiress took to the decks at the Pop Music Festival in Sao Paulo, Brazil to play her first-ever DJ set. What resulted was a Top-40-heavy set filled with plenty of arm-flailing and off-beat hip-shaking… but not much mixing.
Hilton seemed to have put more effort into her wardrobe (featuring a pair of bedazzled headphones) than she did practicing for the gig. Approximately 11 seconds into the video, Paris accidentally speeds up the track before catching her mistake and awkwardly playing it off by waving a Brazilian flag. Every DJ can relate to accidentally nudging the most important control on the CD player (which happens to be located on the opposite side of the device as the rest of the controls)… but happening twice in one minute? For shame, Paris.
Perhaps the best point of the night came when Paris attempted to drop her new single "Last Night" (courtesy of producer and ex-boyfriend Afrojack.) It seems as though the plan was to play the song in full, before transitioning to "We Found Love" by Rihanna. Somehow Paris jumbled up her 'Play' buttons and the crowd was treated to an unintentional mash-up. Instead of attempting to fix the mistake, Paris just tossed her diamond-crusted headphones off and sang over the mess. Needless to say, the sound tech had to come on stage and fix her mistake before the all important drop. Really, really good stuff.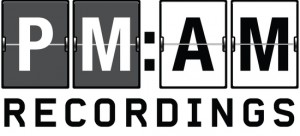 It's a sign of the times; Universal Music Group announced a new addition to the family last week with the creation of dance-oriented imprint PM:AM Recordings. This isn't the first time that Universal has tried to capitalize on pop music's continued move to electronic textures and sonics. UMG shared in the runaway success of roster artist Avicii's smash "Levels" in late 2011. And now there's PM:AM Recordings.
UMG sounds pretty serious about making a bigger impression in the world of electronic music. "PM:AM Recordings is formed of a unique set-up combining the A&R talents of Universal bosses from around the world," the label said in a statement regarding PM:AM's launch. It continued on, saying that, "[e]ach record signed to the label will have been screened through some of the most acutely tuned ears in the business, and in turn each release will receive worldwide synchronicity."
How this vetting process will shape the way hits are picked and developed remains to be seen. The real question is, how will Universal and the other majors wanting to dip their toes into the world of EDM fare against entrenched indie labels that have been in the game for years? The closest competition that PM:AM faces in terms of backing and scope comes from Ultra Records, home to heavies like Deadmau5, Calvin Harris, Above & Beyond, Benny Benassi and more. Ultra is also a standalone entity, the largest record label operating within a genre that has a rich independent tradition. Clear evidence of this is Beatport's Top 100 chart. A quick glance at the chart reveals few recognizable names. There are a few labels that have cachet enough to be recognized by those with just a passing familiarity with EDM, such as the aforementioned Ultra and Deadmau5's imprint mau5trap. There are other labels that would be quickly recognized by those who are well versed in contemporary electronic music, like Anjunadeep and Plasmapool. But then there are labels that don't have much of an established presence outside of a Facebook page or a SoundCloud profile. Others, such as Doorn Records, exist solely as a means of releasing the content of a single artist (in this case, Sander Van Doorn).
Given this environment, it will be interesting to see what kind of impression that UMG, or any of the labels, will be able to leave in the electronic music landscape. There's no doubt that PM:AM Recordings will find success. PM:AM will benefit from the best parts of working within a major label system: lots of money and promotional power. It's also heartening to see a major label UMG give its full faith and support to a genre of music that is finally coming into its own in the mainstream after decades of bubbling just underneath the pop landscape's perception. How this move will gel with the world of Top 40 isn't in question. However, how this will effect the world of electronic music at large, the world of tastemaker DJs and vanity imprints, remains to be seen.