For a new artist, playing a sold out show in front of thousands of fans isn't a regular occurrence. But for country artist Levi Hart, this dream became a reality when he beat out all the other competitors in the "Kid Rock Opening Act" Competition. His deep, soulful voice and impeccable songwriting skills earned him the opportunity to travel to Denver, CO and open for Kid Rock at the Fillmore Auditorium. We caught up with Levi after the show about his experience, and here's what he had to say!
OS: Tell us about the performance. How did the crowd respond to your set?
LH: The crowd was phenomenal. They were so hyped about the show that I was instantly welcomed with applause and cheer when I hit the stage.  I started out with a new song to be on the NEXT album and they erupted into a cheer again! This crowd was awesome. They were pumped and totally ready to for a good show and I gave them the best fifteen minutes I could offer! It was great!
OS: Have you picked up any new fans from the show?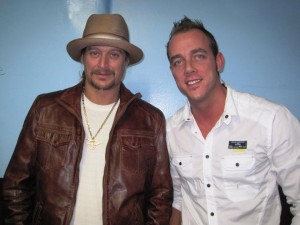 LH: Absolutely! I had emails within hours of playing. Technology is fantastic. It was totally weird. But right after the show, I did meet a lot of people who enjoyed the show and I must have made an impression as I heard from some of those [people] the next day. Totally cool.
OS: Have you performed to an audience of that size before? Did you change anything about your performance to cater to a larger crowd?
LH: I'd performed for a little over 25,000 a few years back, but had been so used to playing 2000 people and under over the last few years in the club circuit in Nashville and surrounding states. It was a nice change and I forgot how awesome it was to play for a larger crowd! (more…)

Kid Rock is on a one-of-a-kind tour, playing in intimate clubs all across the country. Not only is the country superstar playing smaller venues, but he's also bringing along donations to local charities at each stop on the tour. And, because he was feeling extra generous, Kid Rock decided to partner with OurStage to help select an opening act for his SOLD OUT show in Denver on December 1st.
You've been judging and ranking the artists you think deserve this opportunity all month long, and now we finally have a winner. Please join us in congratulating Levi Hart. His soulful, twangy melodies struck a chord with the OurStage fans and helped propel his winning song, "Set It Free," to the top of the channel. Check out the playlist below to hear the winning song as well as more songs by Levi Hart.