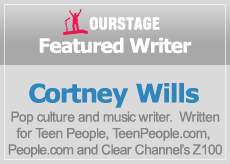 Following her record-breaking rack up of eight MTV VMA's for her single "Bad Romance" and collaboration with Beyoncé on "Telephone," Lady Gaga gave fans a taste of what's to come when she belted out lyrics to her future single, "Born This Way" at the podium: "I'm beautiful in my way, because God makes no mistakes, I'm on the right track, baby I was born this way." The reigning Queen of Pop was escorted by three discharged US soldiers to her big night, a move made to raise awareness for the repeal of the controversial Don't Ask, Don't Tell policy employed by the US armed forces. There's no mistaking the pointed message of the song, but was it also a call to action to her fellow superstars?
The It Gets Better campaign, sponsored by the Trevor Project, has celebs rallying around the LGBT community, urging troubled teens to seek help and hope, not suicide.
It comes at the heels of a national string of gay suicides, most recently Tyler Clementi, the 18-year-old Rutgers student who leapt to his death after his roommate used a webcam to film him having homosexual sex. Clementi's suicide was the fourth time in four weeks that gay youth suicide made headlines, prompting big reactions from some serious stars.
Ellen DeGeneres, Cyndi Lauper, Wendy Williams, Aubrey O'Day, Ke$ha, Ashley Tisdale, Leanne Rimes, Jason Derulo, Joe Jonas, Jewel and Eve are just a few of the stars who have lent their time and their stories in personal video messages directed at teens struggling with their sexuality and its harsh repercussions. Also reportedly in the works is a special episode of hit show, Glee that will broach the subject of bullying and tolerance.
Rumors are swirling that Pink, this year's recipient of the Ally For Equality Award at the Human Rights Campaign's 14th annual National Dinner in Washington, DC, will actually marry a gay couple in her next video, Raise Your Glass.
With today being National Coming Out Day, it seems that finally, the art reflects the time and artists and fans are uniting to be heard.
Cortney Wills is a pop culture journalist born and raised in Los Angeles, California. She has lived in LA, Chicago and NYC and enjoys all things entertainment.