Pop music always makes us feel good so why not start out the new year with a playlist of music that will cheer you up, chill you out or get you through a tough time. There are many other genre influences throughout our list, including indie, country and R&B, so be sure to listen closely and see what you can hear. Keep an ear out for these acts: they'll be hitting the charts hard in 2012!
Keep Talking – Hannah Rae Beale: This soothing pop ballad is tinged with country and very reminiscent of Colbie Caillat's Realize. While the lyrics are somber, the overall vibe of the tune is relaxing. It's perfect for a chilly evening indoors by the fire, snuggled up on a couch!
Take Me Home " Alexandria Maillot: This recent addition to her catalog is bound to grab some attention. It layers a cute, kitschy piano track with punchy, clear vocals and even some tambourine. Fans of Florence and the Machine and Lenka will appreciate this vibrant tune that's perfect for walking to class or just lounging around.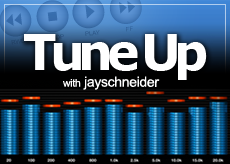 If you ask any bassist what amp they choose, you'll hear a wide variety of answers. Some people swear by Ampeg or Gallien Krueger, but my personal choice is Ashdown. This week I'm offering a quick review of their ABM 410T 4×10 bass cabinet as well as recommending an amplifier head to go with it, the MAG 600H.
ABM 410T:
I personally use an older version of this model as my bass cabinet. There are a lot of things I like about it in terms of construction and power. First, the specs:
-600W of continuous power
-4 10-inch BlueLine speakers
-Tweeter included
-Plywood construction
-Leath/cloth covering
-Metal corners/handles
The amp provides an impressive, full sound that I find lacking in some speaker cabinets. I particularly like the depth of the cabinet. Its dimensions really do add a resonant sound. In the model I own, the bottom port allows some of the lower frequency components to be projected more directly. There is a high/low horn control switch on the back along with its direct ins/outs.  Last but not least, the BlueLine speakers, clearly visible through the front netting, give the amp a unique and crisp look onstage.
MAG 600H:
I chose this amp head for its power and simplicity. You can get the matching head for the cab above, but I personally prefer this model a little more. Often, I find amplifier heads are overly complicated with too many bells and whistles, and somewhat lacking in more important characteristics. Here are the specifications: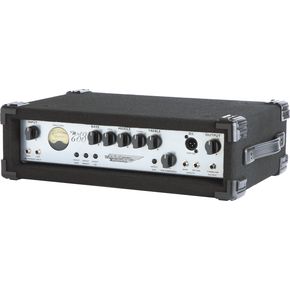 -575W RMS power
-Bass/mid/treble knobs
-Shaping switches (bright or deep)
-Subharmonic generated (enhanced low end)
-Active/passive inputs
-Balanced output
While I don't currently use this for my rig, I have used one in the past. I really like the power because it falls right within the range that I usual require for small-mid sized club gigs. The EQ gives you just the right amount of control (although in some applications I do like a graphic EQ, a minor con for this model). The head even has the flexibility of passive/active inputs to accommodate your specific bass as well as bright/deep quick-switches. This model really shines though in its bass output power. While wattage varies from brand to brand, specs can never tell you how much response will come from an amp in a real-world setting. I can tell you that this amp pushes some serious low end. I've been told by many people that it adds some of the best low end support they've heard from a bass amp in a band setting.
That being said, the amp lacks a little in overall tone. While power and drive are great on this, I find that there isn't enough shimmer for me. If anyone is familiar with the metallic sound of a picked punk bass, you know that you need some high end. I chose the cabinet above because of its inclusion of a tweeter, but this head lacks a little on the high-end, another minor negative for this model.
Overall, the quality and craftsmanship of Ashdown surprises and impresses me time and time again. When loading in and out of venues and transporting gear, I tend to put my equipment through a great deal of stress. These models are, as they say, road-ready. Did I mention that bassists from Lifehouse, Oasis, U2, System Of A Down, Megadeath and Foo Fighters all use Ashdown bass amps? If all that isn't enough for you, I'd urge you to head to your local retailer and try it back to back with other makes and models. I'm betting your ears will agree with me in the end.