Hip hop heroes did more than disappoint this weekend when headliners for the First Annual Playground Music Festival skipped their sets, leaving fans and promoters scratching their heads and looking for refunds.
The event was billed as a two-day hip hop, rock and electronic festival, suited for all ages, and promised 200 bands over thirteen stages.  Hosted by Nick Cannon and headlined by The Game, E-40, Too Short, Big Sean,  New Boyz, Panic! At The Disco and The Bravery, it even boasted appearances by Lindsay Lohan and Pete Wentz.
When gates at Hidden Valley, Irvine opened at noon on Saturday, the mostly vacant parking lot was an early warning sign that the 30,000 capacity outdoor venue might not be packed that day.  Once inside, fans found their way across thirteen stages strewn throughout the Hidden Valley property, ultimately leading to the main stage, where Game was expected to perform his Number 1 album, R.E.D. later that evening.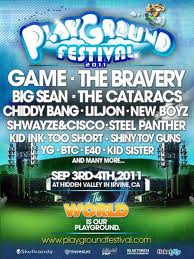 With no signage or announcements of show schedules and stages, it was tough for fans to find the sets they came to see.  Luckily, we caught OurStage's own ForestPunk delivering one of the best rap performances I've seen in years. The twenty-year old Los Angeles native spit thirteen tracks in his hour-long set, which included an eclectic range of thought-provoking prose over heart-pounding dubstep beats, up against his softer-sounding songs like Scary Monster over acoustic guitar. His set-closing number, Bad Monkey had tinges of Lupe-inspired sound fused with the insight and confidence expected from an artist twice his age.
As the night moved on, Shiny Toy Gunz and The Cataracs gave lackluster performances to an eager but small crowd.  As the lock neared 8PM, the sound plug was abruptly pulled and an announcement followed that Game won't be performing tonight. Show is over. Please proceed to the exits. No talk of refunds or rescheduling followed, only herds of fans rushed through the grounds with no explanation as to why.  Too Short and E-40 also missed their headlining slots, with the entire night going up in smoke.
Erudition isn't requisite for a successful rap career (See: Lil Jon). But it's definitely a game changer. That's probably the first thing you'll notice about Newark, New Jersey artist Khan Solomon. Dude's eloquent. His lyrics name-check figures ranging from Greek mythology to sports to pop culture, all in rapid succession. One minute he's summoning an army of minotaurs, a nanosecond later he's referencing LeBron James. But the subject that holds Solomon's interest the longest is religion. Clearly a spiritual man, Solomon uses his music as a pulpit, denouncing the sins of his rivals. The ferocious, booming Bone Collector is an electrifying example: You pagans are slaves to material things / 50 lashes to you fascists, I don't if you scream/ That you rich/ I don't give a shit/ Cause I'm a man of god. Like an inner-city Hamlet, Solomon's weariness with his fellow man is palpable. On War Cries an electronic symphony keens while the rapper chants, Lord, I'm exposed in the dark while you hide in the light. But, just when you think you've got Solomon pegged as a minister of doom, he surprises you by sampling, of all unholy things, t.A.T.u's All The Things She Said. Solomon's music needs to be heard to be believed ¦ ye of little faith should give it a spin.