With Shia LeBouf, explosions, robots and more explosions, Transformers: Dark of the Moon is guaranteed to be a huge summer blockbuster. But even though we're pumped for the latest installment in the Transformers franchise"and believe us, we are"we're almost more intrigued by the soundtrack, which features the first single from Paramore since Josh and Zac Farro left the group in December.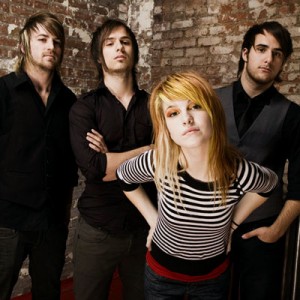 For those who have forgotten (or never cared in the first place), the Farro brothers quit Paramore amid a swirl of controversy at the end of 2010, calling the band a sham, and frontwoman Hayley Williams a manufactured product of a major label. (You can read their full statement on Josh's blog.) It might seem tough to recover from the kind of bad publicity the Farros saddled the band with, but their new single "Monster" sounds just as raw and Paramore-esque as any of their material when the brothers were still members, and Williams just told BBC Radio 1 that they plan to release a new album in early 2012.
Of course, Paramore are far from the first band to make a triumphant return after a rocky lineup change. Remember a little album called Back in Black? AC/DC made what is to this day the second highest-selling album of all time, and they did it after the untimely death of frontman Bon Scott. Can you even imagine a world without Hells Bells or You Shook Me All Night Long? Scott may have appeared on six AC/DC releases before Back in Black, but his replacement Brian Johnson helped create what is arguably the most iconic record from the Australian rockers.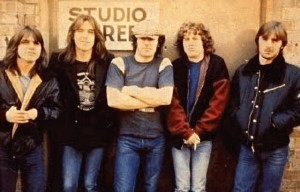 And they're not the only classic band that's had to survive personnel messes" Guns and Roses have had an almost constantly rotating lineup since 1985, and Southern rockers Lynyrd Skynyrd have had more than 20 different lineups since 1964. Courtney Love is no stranger to change; since 1989 she's remained the only consistent staple of Hole while drummers and bassists have come and gone. Even longtime lead guitarist Eric Erlandson, who was with the group for their first 10 years, declined to be a part of their 2009 reunion and actually tried to keep Love from using the Hole name.
Sometimes bands can do more than just survive a lineup change, using a bit of new blood to actually improve. Take Sid Vicious"the infamous bassist's name is synonymous with the Sex Pistols despite the fact that he wasn't even one of the original members of the band. Of course, there are times when a change in the lineup can bring… well, let's just say "mixed results." Frontman Michael Hutchence of the Australian rock group INXS died in 1997, and in 2005 his band embarked on a search for a new lead singer on the TV show Rock Star: INXS. But despite the program's popularity both of the albums recorded with new singer J.D. Fortune earned reviews that were mediocre at best, and many INXS fans thought the show dishonored Hutchence's memory. (Two Australian radio hosts called the program "broadband urination on Michael Hutchence's grave." Ouch.)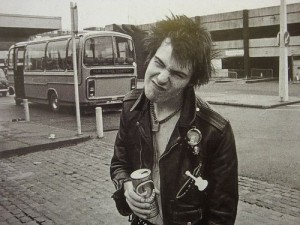 And then there are the occasions when a member's loss is just too great for the group to overcome. Led Zepellin decided to disband in 1980 following the death of legendary drummer John Bonham, despite a surge of  rumors that the rockers were replacing him. In a statement, the group said, "We wish it to be known that the loss of our dear friend, and the deep sense of undivided harmony felt by ourselves and our manager, have led us to decide that we could not continue as we were." Nirvana made the same decision after Kurt Cobain's death in 1994. While former Nirvana drummer Dave Grohl has proven to be an outstanding vocalist for the Foo Fighters, replacing a singer who has been hailed as the voice of a generation would have been a tall order.
But it seems like more and more often, bands will lose a member or two and decide to forge ahead. Florida-based punks Against Me! are selling out shows along their current summer tour, even though their lineup looks nothing like the one that started putting out cassette demos in '97. Several longtime members of Taking Back Sunday have parted ways with the band over the years, yet their self-titled album"out June 28"is one of the most highly anticipated rock releases of the year. In fact, bands like U2, Radiohead or Green Day that have had a consistent lineup through their career are the exception rather than the rule these days. But judging from the work some of these bands have done after weathering massive lineup changes, maybe that's not such a bad thing.

Having been a constant presence in the modern rock scene for nearly a decade, post-hardcore band Senses Fail have refused to conform to current trends on and off the stage. Their fifth studio record, The Fire, a testament to the bands evolution and experiences grappling with self-doubt, anger and forgiveness, was released on Tuesday. We got the chance to speak with frontman Buddy Nielsen about the new record, the first-ever Senses Fail DVD and being on tour with Bayside.
OS: Senses Fail recently returned from touring Australia. How did the crowds there react to seeing you live for the first time in four years?
BN: It was awesome! I had a great time. Everything went really well and I thought the shows went great. I can't wait to go back. Australia is really my favorite place to go.

OS: The Fire is the first Senses Fail record with Zack Roach on guitar. How has the lineup change affected the band and the writing of the record?
BN: Zack didn't really do a ton of writing, it was mostly the three of us. Heath (Saraceno, former guitarist) had a lot to do with the writing, but he was kind of a guy who came in after the fact and added to it, he didn't really write the bulk of the stuff. Not a lot has really changed, as far as the writing process. Garrett (Zablocki, guitarist) usually wrote the bulk of it and he and Dan (Trapp, drummer) arranged it, then I would come up with the melodies and lyrics and help arrange it. I think people would expect that there would be a change, but there really wasn't.

OS: Senses Fail's music seems to get heavier with each release. Is this a conscious decision or has it happened naturally?

BN: It just happens. It's hard to explore different avenues, going a poppier route. It's very linear, what you can do with something that's catchy, as opposed to taking a different vibe and taking a different feeling and taking a heavier route. We try to write songs that we would like to play, ultimately…stuff that isn't too out of the box for us. I think a lot of bands tend to jump the shark sometimes in trying to be experimental. Sometimes it works but I really think most times it doesn't.
OS: There's a way to progress without going too far.
BN: Yeah. You've got to know who you are as a band and who your fans are, too. You can't just abandon what made you popular. You can't get ahead of yourself and what you think are.
OS: That's something you show on The Fire. You guys have definitely come a long way but you still sound like Senses Fail.

BN: Oh, awesome, thanks! That would be what I want to hear. I don't like when my favorite bands decide to do something stupid and change their thing. It's like, "Why? You just ruined it. I liked you for this reason but you decided to mess up what was good about it." I think bands that have been around for a long time feel a sense of urgency to keep up with what's going on or out-do what's going on to stay relevant. It's hard not to go, "This is what's popular, should we do this? Do we need to have all these breakdowns and then a techno part? I hope it's not what we need to do."
OS: Tell us about the title track of the new record.
BN: "The Fire"… that song, to me, just opens up the record to what the record's going to be. "The Fire" is about going through a process of change in your life with uncertainty, but ultimately telling yourself that you're at the right place at the right time and that everything's pretty much happening for the right reasons. It's kind of a bipolar song where part of it's positive and then at the breakdown it goes back to reflecting on ways that I have chosen to deal with things and ultimately want to change. Walking through the fire; walking through a time of hardship leaves you stronger and better off.
OS: Your lyrics have have always been extremely personal, but varied, in terms of their themes. What would you say are the lyrical themes of The Fire?
BN: Self-exploration and working up a lot of self-doubt and anger…definitely anger towards relationships that I've had within my family and coming to terms with them. I think forgiveness is definitely a theme on the record…and just trying to figure out what to do when you're 26 and in a band. The same things that everyone else is trying to figure out.
OS: You're releasing a live DVD with the first pressing of The Fire. What was the concert shoot like?
BN: We did it last Halloween in New Jersey and it came out great, I'm happy with it. It was our first time that we did a live DVD and it's a pain in the ass (laughs). The whole process is just kind of a pain in the ass. But it came out really good, I'm psyched. People have been asking for it. We're not the kind of band that's going to put on a Nine Inch Nails kind of a show where it's very visual and stuff, it's more the kind of show that you need to go to, you know? It's just a band playing music and it's kind of hard to sell that on its own, nowadays, with people not buying records and people just not buying things, period. I think it's better off that it comes with the record, because it's an added bonus, like, "Hey, here's a live show, if you've never seen us." You can't ever really get what it's like to be at a show, unless you're there…or unless you're watching a Muse DVD and it's just hundreds of thousands of people and a crazy stage show and lights. That's visually entertaining and you can sit there and watch.
OS: You're touring with your friends in Bayside. What are you most looking forward to while on the road with them?

BN: I'm just excited to finally be on tour with a bunch of bands that I don't think suck. We tried, with the last record, to bring along bands that were doing well and that didn't work. We've been a band for nine years now and a lot of our fans are a little older and they go to the bar…they don't want to see some of the shit that's going down now. We made some decisions in underestimating how much our audience has grown and what they would like to see. I think that they would probably like to see stuff more along the lines of what we'd like, which is great. I think this tour is going to do really well. I don't know how much the crossover is between Bayside fans and Senses Fail fans, but I definitely know that Senses Fail fans do like Bayside as well.
OS: And the other two bands…you were saying on Twitter that people should definitely listen to them. What are they like?

BN: Oh yeah, they're great bands. Title Fight is punk rock, hardcore band. Like Good Riddance, kind of. Balance and Composure sounds like a mid-90s Midwestern emo band. They're very spacey but heavy, not in a breakdown way…like Deep Elm Records kind of stuff, which is really cool. There are times when they sound like older Recover. They're doing very well so it should be fun.
OS: In addition to providing vocals for Senses Fail, you also front a punk band called Bayonet. Are there any recording our touring plans in the works for 2011?
BN: We have a bunch of stuff recorded and we have a bunch of stuff we're still writing, it's just in between having to write this whole record and then record it, I haven't really had any time to do anything with that. But I think our full-length will come out next year on Vagrant.
Check out Senses Fail on tour with Bayside at these upcoming tour dates:
10/28 " Omaha, NE at The Waiting Room
10/29 " Denver, CO at The Summit Music Hall
10/30 " Salt Lake City, UT at In The Venue
11/01 " Seattle, WA at El Corazon
11/02 " Portland, OR at Wonder Ballroom
11/04 " San Francisco, CA at The Regency Ballroom
11/05 " West Hollywood, CA at Troubadour
11/06 " Anaheim, CA at House of Blues
11/07 " San Diego, CA at House of Blues
11/09 " Mesa, AZ at The Nile
11/10 " Albuquerque, NM at Sunshine Theatre
11/12 " Dallas, TX at The Door
11/13 " Austin, TX at Emo's
11/14 " Houston, TX at Warehouse Live
11/16 " Jacksonville Beach, FL at Freebird Live
11/17 " St. Petersburg, FL at State Theatre
11/18 " Lake Buena Vista, FL at House of Blues
11/19 " Atlanta, GA at The Masquerade
11/20 " Charleston, SC at The Music Farm
11/21 " Greensboro, NC at Greene Street
11/23 " Towson, MD at The Recher Theatre
11/24 " Sayreville, NJ at Starland Ballroom
11/27 " Philadelphia, PA at Electric Factory