Last year over 90,000 people rushed to the site of New Jersey's largest music festival, to bask in three days of pop punk, rock, hard rock, electro, and everything in between. However, after making its home on Asbury's beachfront, it has been announced that Bamboozle will not be returning to the city next year. You can find all the details after the jump. (more…)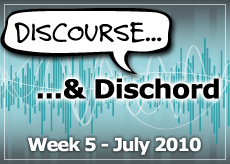 The Good
Funny or Die sends M.I.A. to the suburbs
Watch your back, Funny or Die. After a New York Times article hinted that pop artist/politico M.I.A. may enjoy the finer things in life more than she would like known, the singer fired back by publishing the interviewer's cell phone number on her Twitter page. Nerve=hit. Now Funny or Die is rubbing a little salt in the wound with this video parody of M.I.A.'s Paper Planes, which depicts the singer living in the tony Brentwood neighborhood with an au pair and a predilection for Monet and fine wines. Can't wait to see M.I.A.'s graceful response to this one . . .  keep an eye on her Twitter page.
The Bad
Justin Bieber tries to escape crazed groupies on a Segway
Run, Bieber, run! Or, stand on a machine that will run for you. That's what the teen pop star did when frenzied fans caught sight of him in an Arizona parking lot. Apparently being seen on a Segway is less traumatizing than being attacked by rabid tweens. Check out the video below.
The Ugly
St. Louis birds poo-poo Kings of Leon concert
Kings of Leon had to cut their set short in what is now being referred to as Pigeongate. After opening acts the Postelles and the Stills endured a torrent of pigeon droppings during their sets at the Verizon Wireless Amphitheater in St. Louis, Kings of Leon took the stage with a little trepidation. Three songs in, an unidentified feathered sharpshooter released a load that landed near bassist Jared Followill's mouth, causing the band to halt the show. In the words of Stephanie Tanner, How rude!
LiveNation, the promoter of the event, promised fans a full refund.
Miscellany