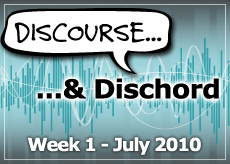 The Good
Lourdes Leon launches Material Girl blog
Lourdes Leon and her somewhat famous mother are launching a fashion line together. It's called Material Girl, naturally. Leon introduced the line with a blog entry that is as adorable as one might expect from an excited 13-year-old. I am totally obsessivo [sic] about ˜80s shorts ¦ you know the kind that makes your butt look kinda big, she says. Look out Women's Wear Daily"we've got a fashion writer on our hands. Leon goes on to extol the greatness of My Chemical Romance (They are so awesome it hurts) and reveal that come October and her 14th birthday, she'll finally get to dye her hair (THANK YOU MOTHER!!) The blog entry is richly rewarding " take a look at it here.
The Bad
Demi Lovato and Joe Jonas subject of badly-timed Teen Vogue cover
Demi Lovato and Joe Jonas's cover for this month's Teen Vogue is a mix of denim and awkward. Lovato and Jonas shot the cover and inside photo spread whilst still dating. Alas, their chaste love ended but two days later. Teen scandal! Read the issue and remember the way they were.
The Ugly
Woman buys MJ's star-studded glove for $190,000
Marking the year anniversary of the King of Pop's death, $1 million worth of memorabilia went up for auction, including the iconic Swarovski-studded glove Jackson wore on his 1984 Victory Tour. That item alone was expected to fetch between $20,000 and $30,000, but ultimately sold for $190,000 to Wanda Kelly of Los Angeles. Her hand must have looked fierce waving goodbye to all that dough. Hope it was worth it.
Chris Brown cries through MJ tribute performance
During his four-minute dance tribute to Michael Jackson for Sunday night's BET Awards, Chris Brown broke down in tears and was unable to finish performing his set. And it wasn't because he lost the auction for the glove. So which song reduced the troubled performer to a sobbing wreck and delivered a big dose of schadenfreude to his haters? Was it (A) The Way You Make Me Feel, (B) Billie Jean or (C) Man in the Mirror? We'll give you a hint " it's C.
Miscellany