We've had a great week of promotion with the band Lucy Bland, this week's Needle in the Haystack winners. If you haven't done so already, download their free track here. Also check out their feature on MTVMusic.com. If you were wondering why you should become a fan of Lucy Bland, just take it from them in our Tweet & A. "Every time you listen you'll hear something new. Our music has many different elements "something for everyone."
We had a really great interview with the band and it was fun to get to know the band members a bit better during our call. Check out the video below. It provides a glimpse into the life of Lucy Bland!
Stay tuned for next week's Needle in the Haystack featured artist!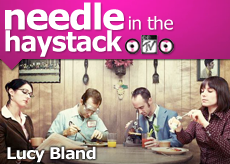 Needle in the Haystack has brought us some really fantastic artists thus far, and this week's artist is no exception.   Despite the name, Lucy Bland isn't a single artist. This group of talented musicians, hailing from Seattle, Washington, came together to create a unique blend of indie rock and experimental electronica. One listen and you'll be hooked on their smooth vocals and unique electronic sounding backup. No wonder they're selling out venues in their area.
Lucy Bland is graciously allowing us to offer the track "Rewrite (No End Mix)" for free!  In this track, keep an ear out for the combination of head bobbin' quick rhythms with sustained ambient tones that give the song it's distinctive sound. Stream or download the track below, let us know what you think and stay tuned for much more from Lucy Bland to come this week!