Dismiss Lukas Nelson at your own peril.
Sure, he's the son of Willie Nelson. And yes, he arguably inherited a huge dose of his dad's voice and talent. But Lukas Nelson is no imitator. He's proven so by carving his own musical path that started in earnest when he left college, against the wishes of his parents. When they cut him off financially, he raised cash around Venice Beach, California while living in his car or sleeping on friends' sofas.
Fast forward to today when Nelson and his band Promise of the Real are ready to release their next album Wasted, on April 3, which Nelson wrote last year when he was on the Willie Nelson Country Throwdown Tour.  A lot has changed for Nelson since he penned the songs on the album. Not only has he and his band developed a solid and rapidly growing fan following, but Nelson is sober and engaged in all aspects of music.
He took time out recently to chat with us about his fans, his music and what he hopes listeners realize about this next album.
OS: People always debate if your music is country or rock. What do you think of that discussion?
LN: It's fine. I think that, at the risk of sounding cliché, putting labels on things takes away from the kind of infinite nature of them. [That's especially true of] music because it can be interpreted in so many different ways. A lot of times a song that seems very simple can be looked at in many different ways. But basically how people [classify] my music doesn't affect me at all. That's the bottom line"I go out and do what I want to do and play what I feel I was meant to play. And I want people to listen, to hear it. However they [define] it is their choice.
OS: The songs on your new album Wasted were all written when you were, literally, wasted. How did you manage to write them when you were in that state?
LN: After everyone was asleep, I'd still be full of energy. I'd go sit in the back of the bus and just write. I'd write what had happened or what was happening then.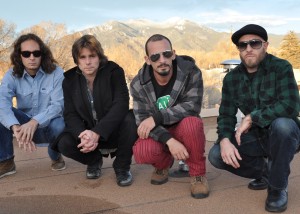 OS: Are you the kind of writer who keeps a notebook or jots down different lines or phrases you hear?
LN: I've never been much of a record keeper of any sort. I've tried to keep journals and things like that and I can't. I live too much in the moment. I don't take pictures too often either just for the same reason. If I'm writing down what happened, I'm missing what's happening now. I just write what I feel. Shoot, it's not a big process.
OS: You make songwriting sound so simple and we all know it's not!
LN: (laughing). Well, it's just the way I was raised, around it all the time. It just comes really naturally.