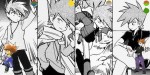 Rap, just like any art or sport, requires constant practice and exercise in order to succeed, and last night Chicago's Lupe Fiasco let fans in on part of his routine.
Taking to Twitter last night, Lupe first posted a snipped of a new song entitled "Light Blue," along with the following message:
"DONT MIND ME¦.JUST STAYING IN SHAPE¦JUST PRACTICE¦LIKE A PIANO PLAYER OR A GYMNAST. Not on T&Y¦So pls dont Say It Is on your blog. Thanx.
Reaction was huge and just a short while later Fiasco decided to release the entire track. You can now stream "Light Blue," which is not going to appear on Tetsuo & Youth, below. (more…)