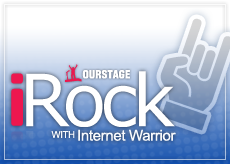 Let's back it up for a moment. Remember back in the late ˜80s and ˜90s when the music industry played the singles game? For all of you younger readers that's when a label would release the artist's single off their album along with two additional tracks, possibly a remix, acoustic or a rare song (depending on settlements). With iTunes taking over the digital age of music retail merchandising, it seems as though the singles game is slowly coming back into play. Since many users nowadays download full albums after previewing or purchasing a single on iTunes, many independent rock artists are beginning to "up-the-bar" of their writing. To stand out amongst the vast sea of artists flooding the Internet, young artists are working harder to write catchier, hit tunes to help them gain recognition and, of course, a nicer paycheck in the end. This week's edition of iRock showcases OurStage rockers who wrote catchy songs that keep your foot tapping and hair standing on end.
Below you'll find a playlist ranging from the Indie Rock and Soft Rock Channels that showcase catchy melodies, hooky lyrics, pounding guitar riffs, solid beats and driving bass lines.
Artist Successes, free music and online connections… we're not doing too bad for our 2nd week of the year! The OurStage team is always on the go and we didn't waste any time getting 2009 into full speed. Check out what we've been up to:

FREE MP3 from NeverShoutNever!
Available for a limited time only, OurStage is giving you exclusive access to download a preview MP3 from NeverShoutNever's upcoming EP. This EP features Ukelele versions of both new and fan favorite songs and will be available on iTunes and all major digital retail outlets on January 27, 2009. Visit the special NSN page on OurStage before January 18, 2009 to get the free download!

Twank Star shines on iTunes
After winning the Step in the Ring challenge hosted by T-Pain and Nappy Boy Records on OurStage last December, Twank Star's winning track Everybody Else featuring T-Pain was released on the iTunes digital music store. In only three weeks, the song has earned over 20,000 downloads! Congratulations to Twank Star on his amazing success. Stream the complete song on OurStage or buy it on iTunes today.

Do You Twitter?
We do! This week, OurStage has joined the ever-growing Twitter network where we plan to share with all of you what we're doing right now. Mostly, we plan to share what we're listening to, but don't be surprised if we throw in some interesting news, games and prizes, too! Join our network; we love making new friends!

Mackintosh Braun to perform at Slamdance
Slamdance is a unique independent film festival that features first time writers and directors and supports all forms of independent art. This week, at the opening party for the 15th annual festival, Slamdance will welcome the popular OurStage band, Mackintosh Braun, to the stage. Give them a pat on the back for getting such an awesome gig and check out their music on OurStage!