When the rolls of power-pop royalty are read, before one can go back to early-˜70s ur-power-pop bands like Big Star and Badfinger, you have to hail the genre's late-˜70s/early-˜80s heyday. Among the handful of acts whose names are invariably invoked in that context"Cheap Trick, Dwight Twilley, The Knack, The Rubinoos, etc."Shoes are always near the top of the list. The Zion, IL band is considered by the cognoscenti to be one of the quintessential bands to combine melodic pop hooks with urgent rock & roll momentum. Their discography boasts stone-cold classic albums like Black Vinyl Shoes (1977), Present Tense (1979), and Tongue Twister (1980), and most of the rest rate just a step behind them. But Shoes released only one new album in the ˜90s, 1994's Propeller, and haven't really been heard from since, until now.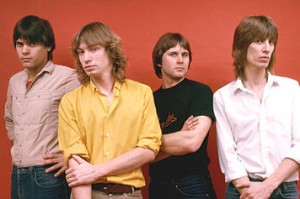 Ignition, the first record to feature new Shoes material in 18 years, will be unleashed on August 14. It features all three original Shoes: Gary Klebe and brothers Jeff and John Murphy, all of whom have always made equal singing/songwriting contributions to the band's albums. In fact, a key aspect of the group's sound is the way the members' individual styles blend together to create a true collective identity. Jeff Murphy says it comes from the fact that Klebe and the Murphys all learned their instruments between ˜73 and ˜74 specifically to start Shoes. That's part of why we communicate so well with each other, Jeff explains, adding the striking admission, We still don't know anything about music. We can't read music, we don't know what proper chord structure is, or scales, or any of that. But we learned together, so we're all in the same skill level. We speak the same language."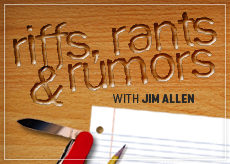 Ivan Julian's name has been attached to so many high-profile projects over the last three-and-a-half decades, from Richard Hell & The Voidoids' milestone debut album, Blank Generation, to The Clash's Sandinista! and Matthew Sweet's Girlfriend, that it comes as something of a shock to realize that his new album, The Naked Flame, is the first solo release of his career.
I've never had the inclination to make a solo album, explains the New York singer/songwriter/guitarist, who was a founding member of pioneering punk band Richard Hell & The Voidoids in the ˜70s and fronted his own band, The Outsets, in the ˜80s. Even with The Outsets, he says, It was my band but I didn't want to call it Ivan Julian & the Outsets. I just wanted it to be a band. This was different, says Julian of The Naked Flame. I just kind of put it all together myself.
While Julian did shape the album at his own Lower East Side studio, N.Y. Hed, a full-service operation that has hosted everyone from Jon Spencer to Ronnie Spector, the impetus and the basic tracks came from an unexpected source. This band came in from Spain called Capsula, explains Julian, And they wanted me to mix their album. Over the course of the project, the young Spanish punks tried to talk Julian into making an album with them as the backing band. Though he was uncertain, Julian eventually sent them a batch of demos, from which Capsula cut basic tracks that they sent back to him. These guys really had the immediacy of what I was trying to say with the songs, he says, They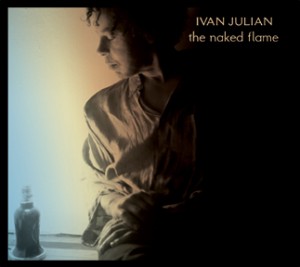 really captured it. I was surprised about it. When the band found a Spanish label for the project and booked a tour in their homeland as well, it was an offer Julian couldn't refuse. He set about completing the record, adding his voice, guitar, and keyboards, and bringing in some guest musicians to broaden the sonic palette. It became abit of a mad rush, though, because Julian only had two months before the tour started. I had to get it finished in a month and a half but my studio was booked in the daytime, he recalls,  So I only got to work on it from 9 at night till 9 in the morning, which kind of made me a zombie for a while.
Now Julian has found a US label for a domestic release of the recording, which contains a career-spanning batch of songs. The oldest, Young Man's Money, goes back to the Outsets era. When I was thinking ˜What songs am I gonna put on the album, what have I always wanted to do?' I kind of picked and chose, explains Julian. And of course there's newer stuff that I'd written. There are also a couple of covers, The Beat, by Alejandro Escovedo's early punk band, The Nuns, and Broken Butterflies by Lucinda Williams.  That song ˜The Beat' that was done by The Nuns, that was a seven-inch single that I found in, I guess, '79 or something. I said to myself ˜One day I'm gonna re-record this.' I always thought that was a brilliant song. The same thing with the Lucinda Williams song, I thought ˜This is a brilliant song, I'm gonna take a stab at it and see what I can do with it.' Rather than look at this as a historical collection of songs, to me it's present and urgent.
History is something Julian has a lot of. He started out as a touring guitarist with British R&B group The Foundations, of Build Me Up Buttercup fame. While he was abroad with the band, he made a fateful decision. I was living in Zagreb , Yugoslavia, he remembers. I'd just finished a tour with The Foundations¦I'd moved from Washington to England and then stopped after the tour in Zagreb. I decided ˜OK, I'm gonna go to New York.' Soon, Julian was placing a Have guitar, will travel ad in a New York music paper, and receiving a call from former Television/Heartbreakers member Richard Hell, who was preparing to strike out on his own. In 1976, Richard Hell & The Voidoids released a three-song 45 that contained the epochal Blank Generation, which would become a rallying cry for the nascent punk scene. It mated moonlighting-poet Hell's iconoclastic, Rimbaud-in-a-ripped-shirt lyrics with the arch, angular barbed-wire dance of Julian and Robert Quine's guitars, for a shockingly singular sound.
The Julian/Quine guitar team was like a brash, spitfire counterpart to Television's Tom Verlaine and Richard Lloyd. We found a way to work together, says Julian of his six-string partnership with Quine. We agreed on so many things, like, we should never be on the same part of the neck, and the guitars should always be panned to one side and the other¦we tried to find parts that worked together as opposed to banging the song out. Even today, I do two Voidoids songs in my set and when I show people the parts, it's much more intricate than it sounds. They think ˜Oh we're just playing A.' No, it's not about that, it's about texture. I was more of a straight ahead rock & roll player, he recalls. I was into people like Keith Richards and Hubert Sumlin¦we just added our two styles together and they became what they became. What's interesting, though, is that the longer the band was together, like people and their dogs, or people that are married¦the more we began to sound like each other.
But for as much of a punk staple as the short discography of the band became, Julian still questions the genre tag. To me, anything that has a creative, aggressive edge is punk. Punk has become this blanket term for Ramones-style music; there were so many different genres of bands playing CB's back then" is Blondie punk? Bob [Quine] and I sat down and said, ˜We want to make a record like the Yardbirds' when we actually got a chance to do the album. We just wanted to make a good rock & roll record, and one that we thought people would want to listen to for a long time. There was an atmosphere and an attitude in the air. It's one of those times in creative history when there was a kind of fire in the air. Just that you were here made you a punk when the city was falling apart and it was really dangerous, and you had to be here because there was nowhere else for you to have a creative outlet. You had to come here.
One of the striking things about The Naked Flame is that it sounds like a continuation"as opposed to a rehash"of the sonic story Julian started telling back in '76. Especially with the energy of a young, enthusiastic band of disciples backing him up, Julian manages to put across a sound that's simultaneously spiky and sophisticated, visceral and richly textured. It covers a broader scope of course, says Julian of the new album, But I still play like that today. I still think that when you deliver something, you have to give it everything. As I always say, ˜Show me your spleen.' So that's how I look at this record, it's a complete spleen reveal.
Of course, between his Voidoids days and Naked Flame, Julian has kept busy revealing his spleen in an admirably disparate array of contexts. After The Outsets disbanded, he started The Lovelies with Cynthia Sley, the singer for New York No Wave darlings The Bush Tetras, and all along he's been a journeyman guitarist. In 1980, his old buddies the Clash were in town cutting their epic musical mélange, Sandinista. On the first English Voidoids tour, we opened for the Clash, Julian remembers. The [Voidoids] record wasn't even out yet. We're doing the first concert and I realize I know the drummer; Topper [Headon] played with [˜70s blues-rock guitar hero] Pat Travers¦when I was in the Foundations [in] '75 or something. So I start talking with Topper and the rest of the band, and it turns out Mick and I have the exact same birthday, down to the minute almost, and I became friends with him. When they came to New York, they called me. They said ˜Come to the studio, we're making this record.' I thought I would hang out and say hello, but they started playing ˜The Call Up,' and I said ˜Okay, give me a guitar,' and I started playing the riffs on that. And I started telling them the story about me going up to Studio 54 which eventually became ˜Ivan Meets G.I. Joe.'
In the second half of the ˜80s, Julian toured with deliciously creepy British post-punk groovemeisters Shriekback, and at the start of the ˜90s, he began a long, fruitful association with power-pop hero Matthew Sweet. Sweet had a couple of non-starter albums behind him when he started working on 1991's Girlfriend, produced by former Voidoids drummer Fred Maher. A decision was made to spice up Sweet's melodic songcraft with the artfully off-kilter fretwork of three CBGB alumni, Julian, Quine, and Television's Richard Lloyd. He's a really good pop writer, beautiful voice, but he's also in love with an angular kind of musician juxtaposed against what he does, says Julian. Girlfriend became Sweet's breakthrough album, with the title track becoming his only Top 10 single. Not one to tamper with success, Sweet kept the unlikely partnership going. There was like a tag team between the three of us [guitarists] over the next 10 years, where each one of us played sometimes at the same time on a record and sometimes different ones.
In fact, one of The Naked Flame's tracks was written while Julian was touring with Sweet, and was inspired by the bandleader's open-ended approach to performance. Matthew's thing with me live, and with all the guitar players, was like ˜It's in B, go!' And you could do all this wild and crazy stuff on stage, I used to have this Echoplex I would f**k with and make all these weird sounds. And one day when I came home I just thought ˜I want a feedback song.'" That notion turned into the rather Hendrix-like modern psychedelia of Godiva.
That's part of me, says Julian of the acid-rock influence. I listened to Hendrix a lot and still do. I love garage psychedelia, and the 13th Floor Elevators; a lot of the music from that late-˜60s period I think is really inspiring. "Godiva" is very Hendrixy. In fact, the ˜60s psychedelic sound had an effect on many of Julian's peers in the ˜70s as well, despite people's current misconceptions about punk's disavowal of all things ˜60s. When you think about it, it was only six years earlier or something; [at the time] the ˜60s were only six years ago. If you put it into perspective now, this is 2011"think back to 2005, it's not such a long time. What was on the jukebox at CBGBs? I can definitely remember 13th Floor Elevators, [Love's 1966 hit] Little Red Book, the Rolling Stones"almost the whole Between the Buttons album was on there"and people played them constantly. This is my issue with people trying to define punk as some kind of musical brand of down-strokes.
However you define The Naked Flame, it's still a cohesive statement from a musician who has enhanced the visions of many other artists but whose own vision has too seldom seen the light of day. While the Spanish release of the album last year found Julian playing a series of dates in Spain with Capsula, an American band has been assembled for stateside shows. Bringing things full circle, the second guitarist will be Al Maddy, who not only plays on the album, but was also a member of the great ˜80s NYC band The Nitecaps, fronted by onetime Voidoids bassist Jahn Xavier. And for as much as Julian decries contemporary listeners' misinterpretations of the punk legacy, he's still justifiably proud of his Voidoids history. It never ceases to amaze me, he muses, I meet 20-year-olds today who have [Blank Generation] on their iPod; it's like a rite of passage now. It contains a certain element that they need at that stage in their lives.