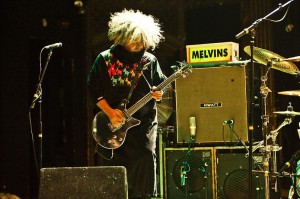 Sludge rock survivors and Kurt Cobain inspirers the Melvins announced their intention to become Guinness World Record holders today with the fastest ever tour of the United States. The band will tour all 50 states as well as the District of Columbia over the course of September and October of this year. The first show will kick off in Anchorage, AK on September 5th and the tour will wrap in Honolulu on October 25th. The schedule has the band in a different city and state every night and will take a grueling 51 days to complete. The Melvins are also doing a similar tour of Canada in July, hitting most major markets in the Great White North along with stops in Rochester, N.Y., Portland, O.R., Bellingham, W.A., and San Francisco.
The touring band for the ambitious outing will consist of singer/guitarist Buzz Osbourne, drummer Dale Crover, and stand-up bassist Trevor Dunn. This three man lineup – lacking fellow Melvins members Jarred Warren on bass and drummer Coady Willis – has the touring bandmates playing and recording as "Melvins Lite." This lineup can be heard on the new Melvins record Freak Puke, released today and accompanied by the news of the tour.
View all of the Melvins' tour dates here. Check out "Leon Vs. The Revolution" from Freak Puke below.