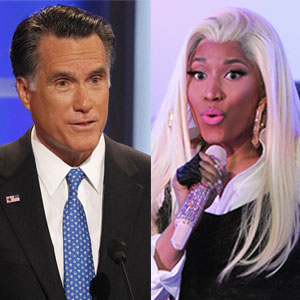 Nicki Minaj's lyrics have always raised eyebrows…but this time, it's political.
In her guest verse on Lil' Wayne's song "Mercy," Minaj spits, "I'm a Republican, voting for Mitt Romney/You lazy bitches is f-cking up the economy." Call us crazy, but something about Minaj endorsing Romney just doesn't sound right. After all, as a black female immigrant with a gay alter ego, she's not exactly your typical Romney supporter.
Looking at the lyrics alone, it's tough to say if Minaj is speaking from the heart, or simply channeling one of her many "personalities." Though she has expressed discontent with Obama's policies in the past, she's never labeled herself as a member of one specific party. Could she possibly be firing that second line at Republicans? Only Nicki knows, but she's keeping quiet to let the media frenzy begin. And according to Talib Kweli, she knows exactly what she's doing.
Minaj has always been a creative artist with a colorful vocabulary and a penchant for using pop culture references in her lyrics. In fact, the very next line after the Romney mention is, "Out in Miami, I be chillin' with a zombie," a nod to the May cannibalism incident in the Florida city. With lines like that, can we really take all of her words seriously?
Listen to the track here and share your thoughts in the comments below.
More Like This: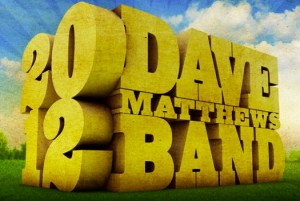 Back in February we covered how Twitter and Facebook had proved that the Dave Matthews Band and Steve Lillywhite were back in the studio for the first time since 2000's failed Lillywhite Sessions. Five months later, Steve Lillywhite continues to engage curious fans through Twitter, and the perennial touring juggernaut that is DMB is back on the road debuting new songs from their upcoming release, which fans can expect September 11th. I got the chance to catch their two-night stand in Hartford, Conn. Also in attendance both nights was none other than super-producer Lillywhite himself. Lillywhite had been teasing fans for weeks about listening to the new album in his rental car, and even Tweeting a picture of the burned disc.
Road trip listening !! twitpic.com/9orwub

" Steve Lillywhite CBE (@Sillywhite) May 24, 2012
Quite the brave move, considering the leak of his last studio effort with the band nearly led to their demise, and a decade long producer/band drought. Nonetheless, Lillywhite grabbed a couple of hardcore DMB fans while leaving the Hartford shows, and invited them to his car to give the album a listen.
Just sat with in @Sillywhite's car and listened to the new #dmb album with @kaciewithak & @ScarltFireDancr. #thankyou twitter.com/coreymanicone/¦

" Corey Manicone (@coreymanicone) May 26, 2012
The DMB fan community erupted with excitement as the news started to trickle out that someone had heard the new album, and suddenly Corey Manicone was a micro-celebrity. Over the next few days he answered as many fan questions about the album as he could remember; most importantly confirming that the new songs being played on the tour up to this point were all on the album. And later confirming the fourth and final new song to be on the album as well.
Read on to watch live performances of the four new album songs debuted thus far, and check out the full tracklist.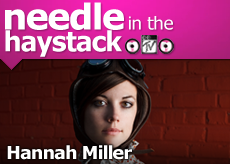 This week's Needle in the Haystack winner writes music that begs to be licensed. It's easy to hear the emotion behind each song and this clearly speaks to both the general listeners and music licensors. Hannah Miller joined OurStage in 2008 and has been tearing up the OurStage charts ever since. Miller has four independent releases under her belt, the last of which was  produced by Ian Fitchuk and Justin Loucks. She quietly seeks inspiration for her music from her husband, her dogs and the interesting people she meets on a day-to-day basis. In addition to being asked to open for Land Pigg, Patrick Davis, Katie Herzig and Langhorne Slim, Miller was a finalist in the International Song Writing Competition thanks to her track The City and Salt. Her song Keep it Simple was featured on NBC's hit show, Mercy. Naturally, it's an honor to have her as this week's Needle in the Haystack winner.
We have plenty more  Hannah Miller in store for you as the week goes on. For now, take a listen to her free download Way About Ya" below.