Metallica drummer Lars Ulrich told a San Francisco radio station in an interview last month that the band has something coming up in December that would surprise fans. When asked for more information, Ulrich explained, "There's a very interesting thing coming our way in December . . . There's another frontier heading in Metallica's direction in December. Which, if anybody (at the band's management) even knew that I just said what I just said, they would hunt me down and silence me. But there is another frontier coming in December, which we're very excited about." Fans began gossiping about the possibilities, but I'm not sure anyone could have predicted the actual event Ulrich was referring to.
Jump to yesterday, when a Columbian web site for Coca-Cola Zero began marketing a new promotion that claims Metallica will be performing in Antarctica at some point in December 2013. Due to unpredictable whether changes no exact date has been nailed down, but the ad does claim the The Coca-Cola-sponsored event will take place between December 2 and December 15. You can view the advertisement below: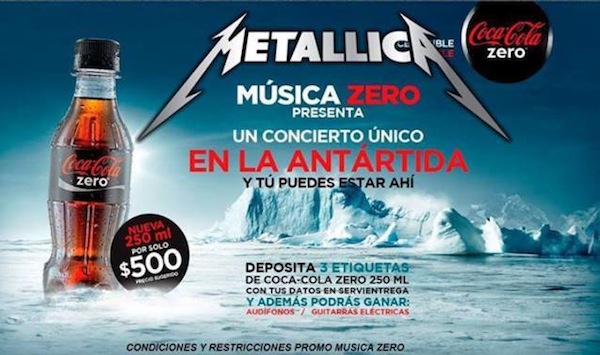 Metallica may be the latest band to head to the southernmost continent, but they actually are not the first. In 2007 a band made up entirely of scientists stationed in Antarctica performed at British Antarctic Survey's (BAS) Rothera Research Station as part of the global Live Earth celebration. The band performed for only seventeen people in person, but the event was broadcast throughout the world.
It should go without saying, but reps for Metallica have yet to confirm this news. The website for Coca-Cola is legit however, so the likelihood of this announcement being a prank is pretty low. We'll bring you more information as it becomes available.