Welcome to the first installment of "Under Covers," a biweekly column dedicated to exploring the musical possibilities of artists appreciating one another's work on both the OurStage and national level! Consider this an opportunity to examine compositions in different musical styles. Today's inaugural topic: the tastefully-composed heartbreak song.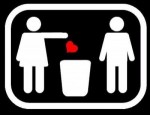 Of the many cultural clichés reigning supreme, the heartbreak song must rank somewhere near the top. Yet no matter how petulant and juvenile these songs can become, it is one of the few topics still applicable to all genres of music hence relatable to music fans from all walks of life. Some songs trumpet confident odes of independence (Gloria Gaynor's I Will Survive and John Mayer's Dreaming With a Broken Heart). Others whimper of love lost (Elvis Presley's Heartbreak Hotel and Ray Charles' Hit The Road Jack). Some musicians choose to explore the down and dirty details, using their music as an outlet to vent with aggressive lyrics and vengeful vibes (Fiona Apple's Limp and Alanis Morissette's "You Oughta Know"), while their counterparts choose to accept the venture as ill-destined and appreciate it for what it was (Feist's Let It Die and Carole King's "It's Too Late").
Reeling from multiple midlife crises, Justin Vernon (aka Bon Iver) spent a winter hibernating in a snowy Wisconsin cabin, recording music and soul searching. The result was For Emma, Forever Ago, Vernon's beautifully sparse debut album. As with most songs on the album, The Wolves (Act 1&2) consists only of guitar and opaquely layered harmonized vocals. The song peaks near the end where the sounds of intermittent percussion, chainsaws and axes chopping wood usurp the percussive absence " symbolic of the tearing turmoil at the heart of this lyric. Content wise, it is undoubtedly about the two respective parties in a break up; the breaker and the broken. Yet this song does not fall victim to the annoyance epidemic of many other similarly-themed tunes. Vernon accepts the situation for what it is, and while admitting his broken state, acknowledges the breaker's point of view. Both contradicting perspectives are indivisibly tied together at the end of the song with lyrics What might have been lost and Don't bother me.
Even though this album is beautiful because it is sparse, one can't help but imagine the potential this song could achieve if it were covered by a larger group capable of accentuating and building upon all the musical points already begun by Bon Iver. For my fantasy cover of this song, I nominate Broken Social Scene. As mentioned in an earlier post, this group uses their weight to layer sounds to celestial heights, which" if done properly" would enhance the song's build up to the climaxinstrumental harmonies to match the vocals. Plus, with so many members, there are tremendous possibilities for replicating the percussive sounds at the aforementioned climax"especially
during a live performance. And imagine if they performed it with Feist, one of the revolving vocalists in the group! The female voice would certainly give this song its missing ingredient, a voice for the unrepresented character to sing Don't bother me at the end. Moreover, BSS is renowned for its storytelling ability so there's no doubt that the abject suffering audible in Vernon's lyrics would be adequately fulfilled.
Exploring other realms on OurStage, last month's JetBlue "Live from T5" competition exhibited a plethora of great acoustic acts. Sticking with the heartbreak theme, another song I'd like to hear covered is She Don't Ride by Methuselah's Valise. With a band name that translates to an ancient creature's suitcase (or as the band describes it"old bastards with more baggage than the train they rode in on) it's no wonder these Brooklyn baby boomers have ample life experience to compose a ballad like She Don't
Ride. This song falls under the category of reluctant acceptance as far as I'm concerned, as the narrator regrettably admits his faults in the relationship ending, and doesn't contest the split. Man and his guitar lamenting love, a theme proven timeless for centuries. But while simplicity is always appreciated, I think expanding some chords" and maybe substituting instrumentation"could really drag this song out of the old and into the new.
I nominate OurStage artist Richard Saunders and the too-cool-for-yous for my fantasy cover of this song. This soulful sextet is structured on a level foundation of jazz and pop, the perfect mixture to pay tribute to She Don't Ride. As his OurStage profile demonstrates, Mr. Saunders experienced the loneliness only a lack of love can bring. His track Still Alone is self explanatory while" contrary to what one may think " his song  I Love You, Richard  is a self-esteem boosting ode to himself, an echoing stress release when those stubborn fans just aren't satisfied. At least that's what I got from it. That being said, he is more than qualified to cover Methuselah's Valise's weary She Don't Ride. The strength of this song lies in the haunting vocal harmonies. The too-cool-for-yous have three agile backup singers to plentifully realize the harmonies. Throw some 7th and 9th chords into the mix on Saunders' Jamie Cullum-esque piano playing along with a more contemporary bass line (still abstaining from any percussion), and the song takes on an attractive modern vibe. But why take my word for it? Listen to what the artists have to say!
I reached out to both Richard Saunders and Methuselah's Valise to see what they had to say about this possibility. Both were very intrigued with the idea. Ward Parker of Methuselah's Valise suggested that Saunders and his group abandon the folk feel altogether: "With his [Saunders] vocal style, a slower tempo and a jazz feel is more appropriate I think; kind of like 'Strange Fruit.' Real atmospheric; smoky with the red lights on, if you know what I mean. Keep it simple; just the piano, drums (brushes) and bass. The backup vocals are great and should be featured." Saunders also had some very interesting instrumental and tempo / time ideas: "I think I would try to maintain the nostalgic, regretful tone of the song while putting in some ideas I've heard in soul/gospel music. I'd have the song build in volume from the beginning to the climax" maybe start out with a strong bass line and lead vocals, then have back-up vocals come in as they do on the original recording. I'd have the band play the song in a slow 6/8 tempo. I could have the back-ups sing 'ooooh's' over the chords of 'through those dark tunnels…' but always have them sing the words 'she don't ride this train no more' in harmony whenever they come up. For the chorus ('she don't ride/she don't take the things in stride') I would have the back-ups sing 'ah's' and maybe have a slow, rolling Hammond B3 come in. After a soulful saxophone solo, I could bring in a simplistic drum part in during the climax. Have the back-up singers sing 'she don't ride' while a soloist (either myself or one of my back-up singers) sings an improvised, riff-filled, gospelly solo on top. I'd bring it back down to bass and lead vocals for the last verse, maybe bringing the back-up vocals on an 'ooh' for the last chorus."
A weather-beaten topic like this is always in dire need of fresh sounds, so why not imagine the infinite cross-pollination possibilities of contrasting artists in your head! If you have a topic for "Under Covers" or know artists that you would like to cover or be covered, leave a comment about them below!