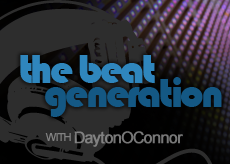 Bleep bloop. What's that sound? Rippling melodic riffage mixed with the sounds of our electronic youth? A sense of nostalgia wrapped up in a coating of fun? Anamanaguchi traffic in a sound that has more depth, is more multifaceted then what one might expect. Currently one of the premiere 8 bit/chiptune groups performing today, they recently had their greatest flirtation with the mainstream after providing the soundtrack for the video game adaptation of Scott Pilgrim Vs. The World.
We got to sit down with lead songwriter Peter Berkman and talk about his bands approach to releases, what it's like scoring a video game and playing a benefit concert for Four Loko.
OS: I was introduced to your music by the Weezer 8 bit tribute album (Note: the album also features OurStage artists I Fight Dragons). What other bands do you consider to be your influences?
PB: I just like awesome melodies and that comes from a whole bunch of different worlds¦Weezer, obviously is a big influence in terms of like the musical side of things. Basically anything with¦an awesome melody I totally love whether it be like Weezer or Dragonforce or Andrew W.K. Or, you know Jackson 5 o ¦ some Japanese Pop music or anything like that. Even¦pop music on the radio. I¦ like expressive melodies¦especially instrumentals that's what I kind of do with sounds that express something. Basically I grew up listening to a lot of punk¦when I was in middle school and high school but¦then I just started to open up to everything.
OS: How did you guys scoring the Scott Pilgrim Vs. The World video game come about?
PB: Basically we just got contacted by one of the producers of the game who knew who we are and thought that it was a really good fit for the project which I think it was especially because Paul Robertson was doing the graphics.¦we just sort of let it evolve¦we just kind of went on tour and got a phonecall saying, 'Hey guys, do you want to do this? And we were like, Uh, fuck yeah! ¦.
OS: Do you guys have any more plans to do video game soundtracks in the future?
PB: Well right now we're trying to kind of to move away from that just for the time being and put out something comprehensive of our own that's like a legitimate album. We've been around before, the soundtrack stuff, and we kind of want to put up a new catalog of music that's kind of where were at musically right now. In terms of soundtracks, I love doing soundtracks. Like I said some of my favorite music is soundtrack stuff¦ from like the '70s that use electronic elements.¦Down the line, if in a year from now, if someone contacts us saying, Do you guys want to do another game, if we had an album out by then, I would probably say "yeah".
OS: "Airbrushed", this first single from your online Summer 2010 singles series just got a physical 7″ release. Are all of those singles getting a physical release?
PB: Well they're all going to have their own thing. We have plans for a skateboard logo. Well, I don't know if I can say that. But yeah we have plans for to revitalize each single with its own special thing.
OS: I saw that you guys put much of your material out for free. I got your first LP from 8bitpeoples.
PB: Yeah, yeah. 8bitpeoples is the shit. Luke, also, our drummer he has a solo project called Knife City and he's aiming to hopefully release it in the next month.
OS: What's your motivation for releasing a lot of your material online for free?
PB: Basically it's just to get so that you get people to hear it. I am down for people to hear music. I don't really like the process¦I don't like any extra step, basically.¦it's the Internet anyways, so once someone has it, everyone will have it. So it's better if¦ we put it out there in the best way that we can as opposed to people just finding it themselves. It's a way that we can control. So yeah, we're down as fuck. And I download free music all the time. I don't understand why we wouldn't do that, basically.¦we want to put everything out and makes it so that¦ the fans aren't working against the band. People should be able to get our music because people are free to do whatever they want. That's our philosophy.
OS: So you guys are touring with Peelander-Z right now? Have you guys toured with them before?
PB: We're about to be in about a month. But that's gonna rule, I'm so excited. They put on the best live show I've ever seen. We've played with them a couple of times but we've never been out on the road with them for an extended period of time. We've played a show here and there with them and it's always amazing. I think that being on the road with them for as long as we are is going to make so that we have to step up our game for our live show because they'll jump on the ceiling. They'll go crazy so if we're not going crazy then we're not doing a good job. I mean they have human bowling. We have to be able to step to that.
OS: Now I'm not much of a music tech person and I saw one or two articles about your live setup and the "hacked NES" that you guys use. How do you use the NES in your music since 8bit is such an important part of your sound?
PB: I program it on my computer originally and that data gets put onto a chip and that chip gets put into the cartridge. It tells the NES, through the code, what notes to play and how to play them. It's basically like having an electronic player piano onstage with us.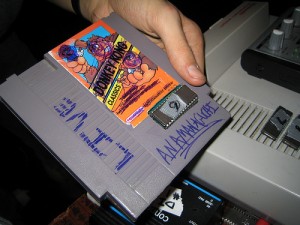 OS: Related to the touring question that I had, you guys and all the bands in the 8bit/ chiptune scene seem very close even though it doesn't appear that you guys don't really share any geographic closeness. What do you attribute the tightness of your scene to?
PB: It definitely has its roots in the Internet and all these Websites that started popping up in the early 2000s that basically were hubs for people from all of the world like the UK, New York, Sweden, Tokyo. Just people who were trying to learn how to do this music in the first place and how to discover it. I mean that Internet acted as a place for these people to communicate and because no one in their nearby radius had any idea what this kind of stuff was. Now that it has a solid base thanks to those people on the Internet and they're communicating. Freedom to have monthly shows that people would go to and then people would follow that model and be like, "Oh shit, we should do that, too!" And that basically turned the Internet into real life and now these actual real life scenes that are coming up in bigger cities and even smaller cities now. And everyone's super tight knit because we all obviously share the same interests and have a way to communicate. The Internet's amazing and it definitely wouldn't exist without it.
OS: Do you think there's a scene starting to grow up in Brooklyn where you guys are based?
PB: Oh yeah, there already is. There are four monthly shows here. I think we have probably, I wouldn't say the highest per capita of chip or 8bit musicians but we have a ton. There's always something going on; if you really wanted to. you could go to an 8bit show three times a month. Definitely more than that if you really wanted to. If you wanted to see some not that great stuff you could probably go to, like, 20. But I mean 8bitpeoples is based here. The Blip Festival is also based here, it's an annual three day festival that's all 8bit music. It already exists, I'd say probably since 2004 even.
You can check out Anamanaguchi's spring tour dates HERE and place a preorder for the "Airbrushed" 7″ HERE.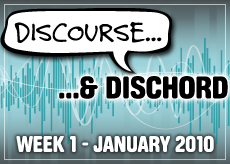 The Good
All the colors of the rainbow set to perform at this month's GRAMMYs
The list of artists slated to perform at the 52nd Annual GRAMMY Awards on January 31 reads like a box of crayons: P!nk, Green Day, Black Eyed Peas, Zac Brown and the always-technicolor Lady Gaga, who was added to the schedule this week. If the committee adds Yellowcard and Red Jumpsuit Apparatus, well, color us happy.
Kelly Clarkson joins Twitter, the masses follow
Don't be jealous, but Kelly Clarkson just joined Twitter two days ago and she already has more followers than you. See for yourself.
Michael Cera stars in new Islands video
You may not know who Islands are, but you probably know Michael Cera, who played the adorable geek on Arrested Development, the adorable geek in Juno and the adorable geek in Nick and Norah's Infinite Playlist. Cera tries out a new character (adorable druggie) in the new Islands video for No You Don't. In it, Cera pops some pills, jogs aimlessly, unsuccessfully climbs a tree and gets hugged by Elvis " not to ruin the ending. Watch it here.
The Bad
Katy Perry is off the market (again)
Katy Perry engaged to Travis McCoy? That's so 2009. Katy Perry engaged to Russell Brand " totally 2010! The American pop singer and her British beau announced their engagement this week following a romantic trip to India. (2011 prediction: Katy Perry and The Situation.)
The Ugly
Freaky Fruit
New Peaches video for Relax off her upcoming album I Feel Cream. Enough said.
Miscellany