Dudes: There will inevitably come a time when you've riled your girlfriend and find yourself racking your brain for some sort of grand gesture to set things straight. Before you reach for the boombox and your Peter Gabriel CD, try something a little subtler and give Michael Logen a spin. Logen's music is the sort of dreamy folk-pop that lends itself to quiet romantic interludes. With his lightly husky falsetto, the Nashville songwriter paints pretty pictures of adoration; i.e. wishing he could rearrange the rain so as not to interfere with his lady's ˜do. Now that's the kind of thinking that will get you back in a girl's good graces. Logen's compositions are far from formulaic, but they do have certain touchstones in common: low, keening string sections, dreamy, gauzy guitar waltzes and coasting melodies. Sometimes the surest way to the heart isn't the most epic. Restraint can be a powerful romancer, too.

The suspense has been killing us since the Be Legendary with John Legend channel judging closed, but at last the results are in. With so much talent getting involved it is no surprise that choosing a winner was such a painstaking decision for the accomplished singer. The channel ran last month and was a Radio-One/OurStage promotion in partnership with Columbia Records. Artists were prompted to come up with their own rendition of John Legend's latest single "Everybody Knows", and enter it. The Grand Prize winner would receive the honor of opening for John Legend at a high profile show, hotel and airfare included. John Legend has spent the past few weeks listening to  the artists in the closing top 10, trying to settle on just one to give the honor of "Grand Prize Winner." There was so much talent, however, that he couldn't settle on just one. Instead he chose one Grand Prize winner and two runners-up. The two runners-up will have the unique opportunity to play their versions of "Everybody Knows" at a John Legend concert in their area. Without further ado, here are Grand Prize winner Porsche Smith and runners-up Michael Logen and Wil Guice!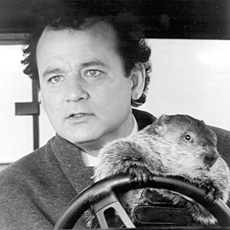 Having trouble figuring out how to celebrate Groundhog's Day? Afraid you might get stuck repeating the same 24 hours over and over? I mean, it's possible, isn't it? Well, don't you worry! As the big day approaches, I've put together a playlist of OurStage songs that you can listen to again and again, no matter how many times you've smashed that stupid alarm clock. So kick back, have a listen, and hope for an early spring.