With Whitney Houston's tragic, untimely death and Adele's big sweep grabbing our near-undivided attention, the 2012 GRAMMY Awards were, in some ways, a two-woman show.
But if any guy came close to upstaging them, it was Chris Brown. And not necessarily in a good way. Brown, who performed two songs on the telecast, did not emerge unscathed from what was foolishly touted as his GRAMMY "comeback""as if he is a supernova among stars, and three years is such an eternity. Some viewers were outraged that he was invited to perform at the ceremony at all, after what he did to his ex, Rihanna, during GRAMMY season three years ago.
The unfortunate irony of Houston's passing on GRAMMY weekend is that, like Rihanna, she had been the victim of domestic abuse by another Brown, her ex-husband Bobby. And the honor of paying tribute to her went to Jennifer Hudson, whose mother, brother and nephew were murdered, allegedly by the estranged husband of Hudson's sister, just a few years ago. If anyone knows that people often hurt the ones they claim to love, she does.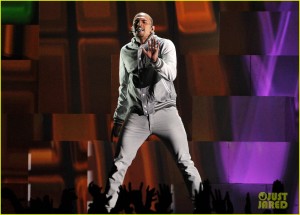 But that one display of good taste doesn't let the National Academy of Recording Arts and Sciences off the hook. Brown's inclusion in the ceremony almost felt like an unintentional f**k you to Houston, to Rihanna, to any woman who has suffered because of domestic abuse.
The big question, though, is this: Has Brown suffered enough? It has, after all, been three years since he pummeled Rihanna in a car. Is it time for us to move on as Brown and NARAS, apparently, both have.
For Brown's many GRAMMY-night detractors (which included singers Miranda Lambert and Michelle Branch as well as actors Wil Wheaton and Eric Stonestreet), it might be hard to move on when Brown has never acknowledged the gravity of the situation in any meaningful way that didn't seem like a public-relations pose. Whether he's onstage, in videos, plugging his music on the morning talk-show circuit, or ranting on Twitter, he never seems sorry enough.