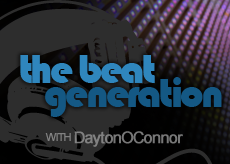 There's always a question about the follow up record. What does a band do after their big breakthrough? On Zonoscope, Cut Copy's third LP for Modular Recordings, Cut Copy faces that dilemma by not breaking stride. Each release from the band has been in forward movement, keeping in step with a logical, traceable progression. Zonoscope fits into this tradition as Cut Copy continue to refine their electro dance rock pallet.
While the record is no grand departure for the band it's clear their sound has gotten a bit of an update for this release. The band worked with indie-superstar producer Ben Allen (Animal Collective, Deerhunter, Matt & Kim, Gnarls Barkley) in making the record. The collaboration proves to be a fruitful one as Cut Copy's sound remains wholly their own while the songs are now driven to a new arena hugeness. (For more insight into the recording of Zonoscope, check out this Behind the Scenes/ Making Of documentary for the album on youtube: part 1, part 2, part 3 and part 4.)
The record cruises through the familiar synthpop fare and '80s club motifs with the scale, the hooks, everything on the record sonically boosted. While cuts like "Hearts on Fire" or "Far Away" were built for the sweatiest discotheques"fast, pulsating four-on-the-floor bangers"the songs on Zonoscope hit in a different way. The kick drum on "Pharaohs & Pyramids" was meant to shake a coliseum that could fit thousands and it's not hard to imagine "Need You Now" opening a sing-a-long set for the band at any one of the Coachellas – where they're playing Friday, April 15th – or Bonnaroos this summer.
The greatest change for the band between this and their last album, 2007's rightfully lauded In Ghost Colours, is the dialing down of the psychedelics that permeated that record. Zonoscope also sounds more upbeat, a change that has come hand in hand with the additional sonic clarity. There are dark nooks in Zonoscope, but they are few and far between. "Corner of the Sky" trades a bit in confusion and mystery before moving to the big chorus and there's nothing as melancholy as "Strangers In The Wind". However, there are still trippy, swirly moments here and there. The one nearly wordless piece on the record, "Strange Nostalgia for The Future", twinkling abstraction that it is, is bright and effervescent. The soundscape interstitials that bookended many of the songs on In Ghost Colours are still present as well, lending the work a sense of cohesion to the record.
Zonoscope finds Cut Copy at their most reverent as the band gives big nods to the past. The aforementioned "Pharaohs & Pyramids" shows its debt to New Order and '80s synth pop with a bass line that would make Peter Hook proud. "Take Me Over" is indebted to Fleetwood Mac; "Where I'm Going" is Rubber Soul era Beatles with a clubby Aughts update. Hell, "Hanging Onto Every Heartbeat" sounds like a product of the '70s with lyrics speaking of watching satellites, where the stars meet and electric heartbeats in the sky. All the while, singer and mastermind Dan Whitford's voice is in fine form, sounding more confident on Zonoscope then he has in the past.
The album is closed out by "Sun God", an epic fifteen minutes of rave-up maximalism, a sprawl of a track. To give you some perspective, the album plays around sixty-one minutes and runs eleven tracks in length. "Sun God" alone makes up about 25% of the album. But considering that Zonoscope is not an album of small gestures, it's a fitting move.  "Sun God" sounds like what you would get if you took Phoenix's "Love Like a Sunset" Parts I and II, turned them backwards, pumped em full of steroids and hung a discoball above it. The track also contains the choice lyric from the album, You got to live/ You got to die/ So what's the purpose/ Of you and I? When you see them in concert, please bring a canteen, if only for this song.
Recorded in a warehouse outside Melbourne, the band said to have used, all sorts of strange bongos, rototoms, congas, ten kinds of shaker, fifteen different cowbells; anything and everything in the production of the record. All in all, it seems that artistic freedom has been good for Cut Copy as Zonoscope is another great record from the band and bodes well for their future.