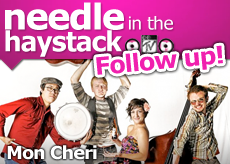 It's been an amazing week learning more about Mon Cheri. We found out a lot about them including that they love their fans,as well as some good old beer! In addition to playing great music, the band has an awesome sense of humor and seem like fun to hang out with! If you haven't taken a listen to Mon Cheri, check out the blog post from the beginning of the week where they gave away the free track, "Psyche"! You can also find the band featured on MTVmusic.com here!
Stay tuned for next week's Needle in the Haystack artist, and, as always, drop a comment if you dig what you hear from Mon Cheri!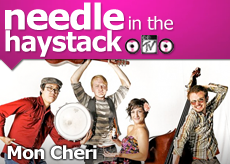 This week's Needle in the Haystack is a 4 piece indie pop band hailing from Spokane, WA. Mon Cheri plays a unique style of indie-pop that has small hints of both jazz and folk. The band has recorded both an LP and an EP and has received quite a few accolades from the local media for their performances and releases. In 2009, Mon Cheri was named one of the Inlander's bands to watch"we definitely second that notion. This group has got some talent! They play live all the time and strive to make every performance memorable for their audience. They do this by demonstrating their passion for their music to each and every one of their audience members.
In their OurStage bio, Mon Cheri says they draw their influences from artists such as The Beatles, Everly Brothers, Rufus Wainwright, Sondre Lerche, Ryan Adams, Jeff Buckley and Simon & Garfunkel. These influences come together to create a very unique sound. And with such diverse influences, its no wonder their new EP has such a vast mixture of different sounds and feelings.
We've got quiet the exciting week in store with Mon Cheri, so stay tuned! Also, be sure to download their free track "Psyche" below.