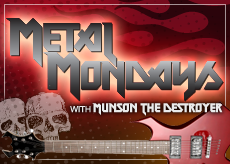 June was a pretty gigantic month for metal music, with upwards of twenty-five notable releases, some by pretty powerful players in the metal world in recent years.  Not everyone has the time and energy to check out all the big releases week to week and month to month, so I'm here to help you to stay on top of this busy time. Here's a collection of mini reviews covering a bunch of June's metal albums to help you figure out where to begin:
In Flames – Sounds Of A Playground Fading
In Flames, one of the more famous names in the metal world, has seen their fair share of disappointment in recent years due to the flops that were A Sense Of Purpose and Soundtrack To Your Escape. Sounds Of A Playground Fading falls in line with those releases in terms of style, but is much less disappointing. Still not great, though.
Jungle Rot – Kill On Command
If you're a regular reader, then there's a pretty good chance you already saw my full review of this album. Still, to sum it up: this is a straight-forward, stripped down metal album in time when they are few and far between. If you haven't read the post yet, check out the in-depth version from a few weeks back.
Devin Townsend – Deconstruction
Regarded by many as one of the most talented individuals in the metal world today, Devin Townsend rarely disappoints audiences with his music. And Deconstruction is no different. Though musically brilliant, it may take some people a bit of time to become accustomed to his odd themes, lyrics and humor. If you already know and love Devy, Deconstruction will absolutely make your day.
Tombs' second (sort of third) full-length album is definitely their best work to date, and quite possibly one of the best records of the year. Their signature mix of black and sludge metal meld flawlessly when taken to a new, extreme level. Fifty-eight minutes of pure metal awesomeness with not a single dull moment.
Morbid Angel – Illud Divinum Insanus
I'm still not sure if Morbid Angel are just executing the biggest troll on the metal community or not, but there's no denying that Illud Divinum Insanus is just plain not good. Trying out a new style of music, or trying to fuse new styles into a genre in which you've already proven your worth is admirable, but in this case it went horribly wrong. It's not a good death metal album, it's not a good electronic album, and it's certainly not a good mix of styles. If you're looking for electronic/metal combinations, maybe try "Self Vs. Self" by Pendulum and In Flames.
August Burns Red – Leveler
August Burns Red's fourth full length album sees the band departing even further from the somewhat standard brand of metalcore that propelled them to success. Leveler incorporates a litany of different musical styles, such as a nice flamenco guitar interlude, within their signature level of tightness and high energy.
Arch Enemy – Khaos Legions
The extra time Arch Enemy took between albums, along with Michael Amott's short stint reuniting with Carcass, clearly had a huge effect on the band. Khaos Legions is a bit of a departure from the band's other recent works"and for the better. Each member's best efforts focused into one album makes for a really solid listen.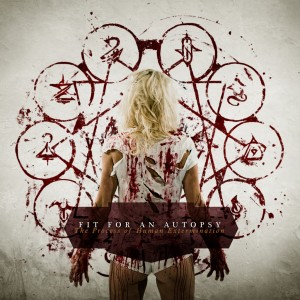 Fit For An Autopsy – The Process Of Human Extermination
Every now and then a band tries to do something interesting with the currently played-out, generic deathcore sound without falling into the very well-defined box that deathcore has become. Fit For An Autopsy gets points for their effort, but there are still traces of the cookie-cutter style. A solid listen, though I'm not so sure that this is even close to the best the band can offer.
Job For A Cowboy – Gloom
With every new release, Job For A Cowboy make a case for being one of the best pure death metal acts and Gloom is no different. As an EP, it's only four songs, but each of those songs is remarkably well-executed and shows the band isn't even close to done yet.
Limp Bizkit – Gold Cobra
Calling Limp Bizkit a metal band that this point is really more of a joke than it is a serious claim, but this record is worth noting due to the fact that it perfectly sums up all of the music Limp Bizkit has made to date, except for their first (and best) album, 3 Dollar Bill Y'all. From the high energy tracks with angry raps to the somewhat ballad-like tunes, you get to hear a little bit of everything Limp Bizkit is known for.
Here's a few other June metal releases that I've heard some good things about:
Symphony X – Iconoclast
From the looks of comments and ratings around the Internet, most people seem pretty pleased with this album. After 194 ratings on metalstorm.net, Iconoclast sits at an 8.5/10 rating, which isn't too shabby at all (but is lower than the respective ratings for each of the three albums prior to it). It would appear that Symphony X have put out yet another solid album.
Like Symphony X's latest effort, most opinions of Entity seem to be very positive. It's averaging an 8.4/10 after 57 votes, which is right on par with their last record. The only real complaints I've seen seem to be that some of the songs are quite short, and the album can get a bit lost in its overly-technical style at times.
Amorphis – The Beginning Of Times
The Beginning Of Times is the follow up to this Finnish monster band's great 2009 album Skyforger, and by most accounts, is equally as good. Described by some as being a bit more melodically complex and reaching, Amorphis is not, historically, a formulaic type of band so overlooking a release is usually a folly.
June really turned out to be quite a climax in an already fantastic year in metal, and the releases keep rolling out. There are at least a few more albums coming out in 2011 that could very well dwarf the rest of the year's releases (such as Revocation, Decapitated, Opeth, All Shall Perish, Skeletonwitch, etc.) but we'll have to wait and see.
Any June metal releases you're especially fond of that you think people should give a listen to? Post it in the comments section!