Whoever invented the movie preview must be some kind of genius. Because of them, half the fun of seeing a movie on the big screen is getting there"to the main attraction, that is. It always takes a few good trailers to put me in the mood. But sometimes, if the words don't get in the way (damn, bad screenplays!), the music does. Too often terrible songs ruin perfectly good trailers"or make bad ones worse.
That said, movie-trailer music has come a long way. For a brief period in the early '90s, nearly every other one seemed to feature the soothing new-age sounds of Enya floating by in the background. Nowadays we get a larger assortment of musical backdrops (pop, classical, rock, hip hop, techno and, of course, vintage Motown), some of which can actually turn must-avoid into must-see — at least until the coming attraction is over and sensible thinking once again prevails.
Variety, however, hasn't done away with predictability, and recently, while screening trailers for some upcoming autumn releases, I noticed a few rules at play.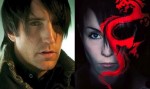 1. No self-respecting Oscar contender stoops to the tops of the pops. David Fincher may have gotten Trent Reznor of Nine Inch Nails to score The Social Network last year, but he knew better than to use Radiohead's 1992 hit "Creep" in the trailer. Instead, he used a haunting cover by Belgium's Scala & Kolacny Brothers. This year, for The Girl With the Dragon Tattoo (December 21), he punctuates the sneak-peek action not with Led Zeppelin's classic version of Immigrant Song but with a near-equally exhilariting remake by Reznor and Karen O from the Yeah Yeah Yeahs.