The 2012 BET Awards were held Sunday night in Los Angeles, setting the tone for a sizzling summer of new music from some of hip-hop's biggest names. Beyoncé took home the trophy for Best Female R&B Artist while Nicki Minaj nabbed Best Female Hip Hop Artist for the third year in a row.
Whitney Houston was given one final farewell from a group of very talented loved ones including her mother, Cissy Houston, who sang Bridge Over Troubled Water to a sobbing crowd. Mariah Carey and Angela Bassett, along with the rest of Houston's Waiting To Exhale cast mates, also delivered heartfelt tributes.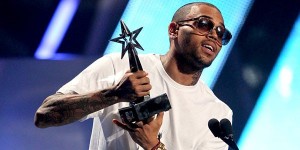 Performances from Chris Brown, D'Angelo, and Kanye West provided previews for some of this season's most anticipated releases. Brown's album, Fortune, was just released on July 3.  Last weekend, Brown was honored at the 2012 BET Awards winning Best Male R&B Artist after he gave a power-packed performance of Turn Up The Music and Don't Wake Me Up to a turned up crowd who can't help but be mesmerized by his unrivaled dance moves and brightly painted bare chest. His newest singles dropped last week and included one Drake diss and two crazy collaborations; Mirage featuring Nas and Get Down featuring B.o.B., as well as one stellar solo offering, Trumpet Lights.  (more…)

It looks like the long-awaited collaboration album from Jay-Z and Kanye West, Watch The Throne, has proven more than a myth.  After a string of reluctant release dates, one killer single and months of swirling secrets about the monumental project, the duo delivered another puzzle piece last week when they released a tracklist for the sixteen-song LP.  Many fans, myself included, have been praying the project wouldn't turn out to be another Detox, perpetually postponed and ultimately irrelevant. Guess the hip hop Gods were listening.
Rumors of the album began swirling last summer, when Kanye announced via Twitter that he and Hov would be serving a double dose of dopeness.  On New Year's Eve, Kanye announced a January release for the album.  While they released the hard-hitting single, H.A.M. later that month, no album followed. Then, the project was pushed back to March, then was certain to be delivered in June, then July 4; only for the dates to come and go with no official update.  Back in June, Jay-Z elaborated on the hold-up, telling Delta Sky Magazine, Before success, there weren't interviews or photo shoots.  Now it's a big thing to get in the studio. It's like a process just to get there. And once I'm there, I have to dial into an emotion.  He also said Kanye has been hard to pin down, since he is in an extraordinarily creative place.
Now, fans who have pre-ordered since July 4 have been given a ship date of August 2, we've finally got a peek at the most highly-anticipated album of the year.
Although Jay-Z warned journalists at a listening session in New York last week that the tracklist was tentative and titles subject to change as well, he previewed eleven songs and three snippets of potential tracks, indicating a real release is on the horizon. The album features guests Beyoncé on Lift Off, Mr. Hudson on Love You So  and Frank Ocean of Odd Future on Sweet Baby Jesus and No Church in the Wild.  The album also features a sample of Otis Redding on Otis. A snippet featuring Swizz Beatz was also previewed, but may have ended up on the cutting room floor.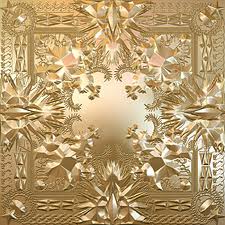 On Wednesday, Jay-Z posted an official tracklist to his Web site:
1. No Church in the Wild (Feat. Frank Ocean)
2. Lift Off (Feat. Beyoncé)
3. Ni—s in Paris
4. Otis (Feat. Otis Redding)
5. Gotta Have It
6. New Day¨7. Prime Time
8. Who Gon Stop Me
9. Murder to Excellence
10. Welcome to The Jungle
11. Sweet Baby Jesus (Feat. Frank Ocean)
12. Love You So (Feat. Mr Hudson)
Bonus:
13. Illest Mother—-er Alive
14. H*A*M
15. That's My Bi—
16. The Joy (Feat. Curtis Mayfield)
Jay-Z admitted he and Kanye had a rocky road on the collaboration.  They changed direction from the initial sound of H.A.M. and had conflicting schedules and creative differences.  Such is expected from two masterminds and one mic.  Still, he called the process enjoyable, telling reporters, Kanye, he's really like a brother to me, I've seen him from the beginning to where he is now, and to see him as a producer and how he's grown as a producer and artist, you know, for me, on another level it's enjoyable."
The album was recorded around the world to accommodate intense travel schedules, resulting in a labor of love from two of the greatest emcees of our generation.  Although we're still missing a stone cold release date, I trust Hova when he says, It's coming soon.  Very soon.