Last year, the premiere of NBC's The Voice brought new life to the tired format of reality singing competitions. Unlike American Idol and The X-Factor, contestants on The Voice audition for the show by performing for four judges, all of whom have their backs turned. If the judges like what they hear, they press a red button to turn their chair around, thereby claiming the contestant for their team. If more than one judge turns their chair around, they'll have to fight for the contestant, who then has the opportunity to pick which coach they'd like to work with. Oh yeah, and instead of industry execs and Simon Cowell, the coaches of The Voice are four of the biggest names in music: pop superstar Christina Aguilera, Maroon 5 frontman Adam Levine, country crooner Blake Shelton and the "Crazy" and colorful Cee-Lo Green. The show has been applauded not only for having a unique format, but also for being extremely accepting of performers from all walks of life, styles and levels of experience.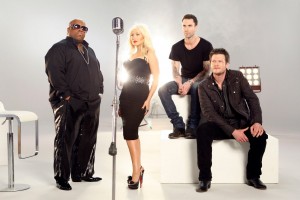 Last night, The Voice returned for its second season and viewers were not disappointed.  Even the contestants who weren't chosen by any coaches, like twenty-year-old Daniel Rosa (who performed "Animal" by Neon Trees), were extremely talented. At the end of the night, however, only five performers were selected to compete. Of the group, there is a country singer, an R&B singer, a rock singer, an opera singer and a soul singer, which instantly gets this competition started on a unique note.
Of the five contestants chosen on last night's episode, two performers truly stood out as early contenders for the win. Jesse Campbell, a formerly homeless single father from Illinois, had all four judges turn their chairs around before he even reached the first chorus of his song. All of them were taken by his flawlessly smooth voice, which is reminiscent to that of season one winner, Javier Colon. When the performance was over, Adam spoke for everyone when he said, "the whole room was on fire." Though Jesse is an R&B singer, he decided to join Team Christina. We're sure those two are bound to make a dynamic pair!
The second contestant to watch is twenty-five-year-old rocker Juliet Simms from Clearwater, Florida. Juliet has been a staple in the modern alternative rock scene, performing under the name Automatic Loveletter for several years. Her rendition of The Beatles' "Oh! Darling" had Adam Levine singing at the top of his lungs, and although Blake didn't turn his chair around, the other three coaches spent plenty of time fighting over her. In the end, she chose Cee-Lo as her mentor"a surprising move that is sure to have awesome results.
It's clear that the level of talent is already higher than season one, so the pressure is definitely on. Tune in tonight for another episode of The Voice, starting at 8pm on NBC!
Missed the show? Check out Juliet Simms' performance of "Oh! Darling" below: