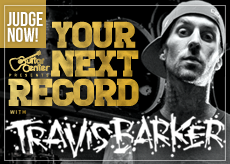 If you take a look back at the past fifty years, each musical decade boasts at least one drummer that all music fans" from the teenyboppers to the indie kids"can name right off the bat. The '60s had Charlie Watts and Ringo Starr (if you call that drumming, zing!), the '70s had John Bonham and Keith Moon , the '80s had Neil Peart and Tommy Lee, the '90s had Lars Ulrich and Dave Grohl, and the '00s have Travis Barker. From playing pop punk to most recently hip hop, Travis Barker is somewhat of a jack-of-all-trades.
Barker is now partners with Guitar Center and OurStage, offering one talented artist the big break their musical career has been waiting for, and it's not too late for YOU to submit your best track. Guitar Center's Your Next Record with Travis Barker Competition is accepting artist submissions until April 30, 2011, so if you think you have what it takes, enter your best original track for a chance to win BIG. One Grand Prize Winner will win a trip to Los Angeles to record a three-song EP with Barker at Red Bull Studios. Barker will lay down the drum track on one single for the EP, which will be distributed worldwide by TuneCore. The winning artist will also score a $10,000 shopping spree at Guitar Center!
Fans can also get in on the action simply by lending their musical expertise to the mix, and helping the best artists get the most exposure. By judging in the competition by May 15th, you could take home an OCDP snare drum autographed by Barker himself! Sound like a sweet deal? Head to the Your Next Record with Travis Barker Competition Channel to take part in the judging now!