It's a passion like no other.  It's a drive like nothing you've ever seen.
For an aspiring artist, the road to stardom is paved with big dreams, big sacrifice and big letdowns.  The very nature of the music business breeds dishonesty, greed and broken promises. In a world where talent doesn't ensure a thing, and opportunities seem few and far between, I have to wonder what life looks like for artists before we start watching? And how, after the hundreds of horror stories of the evils of this industry, do these artist continue their fight for fame?  How do they persevere through the pitfalls without losing faith? A case study on the subject with a particularly poised  up and comer should provide a clearer picture.
Keaira LaShae knows a thing or two about the music business. At twenty-four, she's been at it for ten years. Born in Tampa, Florida, La Shae began singing in the church across the street from her home at an early age, discovering her knack for entertainment after winning a local competition at seven, beating out competitors twice her age. At fourteen, she formed a group with two middle school classmates.  The trio got noticed at a regional competition for Showtime At The Apollo and was introduced to their future manger, M.  After replacing one member with younger sister, Ceaira, and renaming themselves Diversity 3, the girls were flown out to Los Angeles for an in-home audition for an industry insider. He was impressed, and told them to write three songs in an hour, which he then shopped to various record labels.  What resulted was an all-out bidding war, with Sony Music inking a $4 million deal with the group.  Like so many others, the deal fell through, with the middle man taking more than his ˜cut' of the profits. We were crushed, recalls LaShae.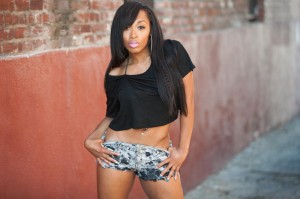 Despite the blow, the girls decided to keep the momentum going by executing a two-hour production on their own.  They [the labels] knew about us, and I knew that wasn't our only shot, she recalls. The girls worked ˜round the clock on everything from musical arrangements to choreography; making posters, securing a venue, hiring a DJ and selling tickets.  We sang the national anthem during morning announcements at every school in Hillsborough County.  We sang at malls, in the food court, on the street, at nail salons, anywhere someone would listen.  When the big night came, lines formed down the street and around the building, forcing the doorman to turn people away after they exceeded capacity. Representatives from Virgin Records were in the crowd, and within days of the show, the group was flown to New York for a showcase for the label's president.  After a successful fifteen-minute showcase, one group member blew their chances by getting sassy with an executive. LaShae had reached her limit.