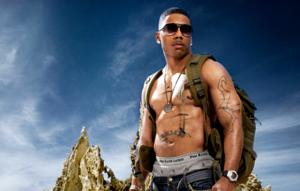 Rick James may no longer be with us, but the legend of his smooth moves with ladies lives on today thanks to a new single from Nelly and T.I.
Featuring a thick, funky bass line as its backbone, "Rick James" found its way online this morning thanks to our friends at HipHopDX. The track brings together Nelly and T.I. for a celebration the good life, with bottles in the air and dancing on the tables. The verses don't hold much weight, but the hook won't let up. You can stream the song below.
And of course the man who owns all modern Rick James references, Dave Chappelle, gets a sample, delivering his famous "I'm rich, bitch" before the chorus.
"Rick James" could easily make it at commercial radio. It falls in line between Justin Timberlake's "Take Back The Night" and Robin Thicke's "Blurred Lines," but is unique enough to stand on its own merit. Comment below and let us know your thoughts. (more…)