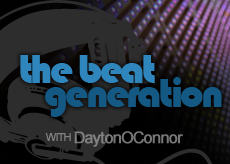 Seth Haley wears a lot of hats. A designer by day, Haley has a second life as a producer/DJ/remixer.  Under the moniker Com Truise, Haley has released a handful of EPs worth of material and done remixes for artists like Neon Indian and Twin Shadow. Most notably, his remix work was featured on the Tron: Legacy Reconfigured record, a collection of songs from the film of the same name as reinterpreted by a number of big time producers including Boys Noize, The Crystal Method and Moby. His output thus far has already made him the darling of tastemaker bloggers like ISO50 and EARMILK, and he's even had one of his tracks mashed up with Lil Wayne's "John (If I Die Tomorrow)" via The Hood Internet. The results are unsurprisingly baller.
The Hood Internet – Slow John (Lil Wayne x Com Truise) by hoodinternet
This, along with the reception to his material has led to a steadily rising profile, so it's not too surprising that his full length debut, Galactic Melt, received the official streaming debut treatment on The Hype Machine. However, Com Truise is still a relatively enigmatic project. It's fitting that he's on the Ghostly International roster along with fellow mysterious knob-twiddlers Phantogram, Dabrye and Matthew Dear. Like the work of much of his labelmates, Haley is a borrower. Pulling from hip hop, post-punk and funk, he wraps his influences in a hazy, gauzy veil of synth. I'm just going to come out and say it: if you don't care for synth or '80s fetishizing, then this is not the record for you. You can stop reading, you won't be interested in it.
Do we still have most of you? Good, because Galactic Melt, Com Truise's debut, is nothing to sleep on. The '80s influence is so strong here that the record feels like a remnant of the tape deck in your friend's Delorean. Haley himself describes the album as, "sort of film score… from the mind" and it lives up to that heady descriptor. Com Truise's work up until this point was defined by, among other things, a distinctly cracked aesthetic. Sudden diversions such as abrupt changes in melody or rhythm were typical. While such idiosyncrasies worked before, the material on the record is a much more direct and focused collection of material and it benefits from this increased cohesion.
"Terminal" functions well enough as a intro to the record, setting the narcotized atmosphere for the rest of the album early on. Galactic Melt really starts about forty seconds into "VHS Sex" when a stuttering 808 kick emerges from the trilling synth mix and absolutely owns the track. Songs like "VHS Sex", "Air Cal" and "Hyperlips" are all swagger and it's a shame that moments like this aren't explored more fully on the record. However, Galactic Melt benefits from the overall diversity of emotion that the tracks explore. "Brokendate" and "Glawio", showing up near the tail end of the record, are both longing for something or someone and "Cathode Girls" notably recalls Com Truise's earlier, more fractured sound.
The most glaringly obvious influence on this record is the '80s, but it's more interesting to pick out the other strands running through the album. There are many moments that feel a lot like Boards of Canada with a modern, accessible update. The hip hop feel of a lot of the tracks, the strong rhythmic beat, keeps many of the songs from spiraling out of control. Those little, subtle touches"the New Ordery bass line in "Cathode Girls", the record scratches on "Glawio"" are what make the record. Too many instruemental records stagnate; the tracks song to song are too samey, the record can't hold the interest of the listener with a vocal accompaniment. On Galactic Melt, everything is shimmering all the time. It's a beautiful thing.