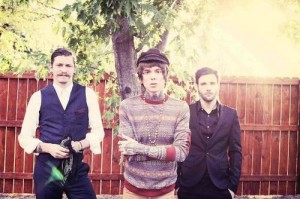 OS Members Never Shout Never have joined a long-running industry tradition and announced plans to release their own collection of holiday music just in time for reindeer to land on your roof.
Never Shout Never shared with fans their plans to release new EP, titled Christmas, on November 25 of this year. The album will be a collection of holiday songs, including at least one original song. That track, titled "Everything Is Cool," can be streamed starting today, exclusively on Alternative Press.
So what do NSN bring to the holiday table? For starters, "Everything Is Cool" harkens back to the group's early days of creating mainly acoustic songs built on easy-to-memorize lyricism. The "cool" in the title refers to the climate, and as the track plays on, frontman Christofer Drew recounts the many things that come to mind when thinking of the holiday season. It's not likely to be a modern classic, but it's certainly a refreshing new take on the spirit of the season.
Preorders for the Christmas EP have yet to be announced, but we expect at least a handful of purchase options will be unveiled in the weeks ahead. Follow OurStage on Twitter to ensure you never miss an update.