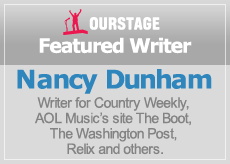 The recent Americana Music Awards in Nashville may be over, but Grace Potter's still savoring her memories of the event.Besides mingling with such country, bluegrass and Americana heavyweights as Rosanne Cash, The Avett Brothers, the Courtyard Hounds, and John Mellencamp, Potter had the chance to chat with Robert Plant, who has embraced Americana despite his long rock legacy.
"It was so awesome. My life was changed forever," said Potter. "Not only did I meet Robert Plant, but he knew who I was. I was completely bowled over¦.Normally I wouldn't brag about that but in the whole world, he is my model. He's graceful, serene and all about being the bad boy, too."
The smart money bets that Potter will have plenty more household name artists seek her out in the coming months. Ever since Grace Potter & the Nocturnals burst onto the scene in 2007 after signing with Hollywood Records, they've caused a ruckus among music lovers.
Now that she's done a duet with Kenny Chesney on the song "Hemingway's Whiskey," the title track of Chesney's new album that was released September 28th, the buzz is louder than ever.
"It still feels really fresh to me," said Potter of the song and her excitement at his request for her to join him in song. "When [Kenny] emailed and asked me to join him, I couldn't stop thinking of [his] song 'She Thinks my Tractor is Sexy.'"
Although she knew of Chesney's talent, Potter said she was wasn't prepared for the beauty of "Hemingway's Whiskey."
"It was stripped down and beautiful," she said. "[I especially loved] the really nice, subtle drums. I thought the song was just magic as it was¦.[For the full version] they didn't want it too fancy or over produced or polished. I felt it was the perfect song for me to be a part of and it was a bit of a departure for Kenny, something his voice fits perfectly into¦.He's such an amazing vocalist."
Although her goal is to tour with Chesney, for right now Potter is focused on her own tours and promoting the band's self-titled album that was released in June. The Vermont-based group's new line up has made it more hard-charging and working with producer Mark Batson has finally propelled Grace Potter & the Nocturnals into a musical space they've always wanted to inhabit.
"This is just what I always wanted," said Potter of the sound. "This album was almost 10 years in the making and it's exciting to absorb it¦.The band is my focal point right now."
And it's on fire, with players grabbing sounds from each other and advancing them in certain ways, which gives the music elasticity. That's why the music might take on more of a country vibe at a Nashville concert but add dollops of soul when they take a Memphis stage.
"We are very much a chameleon band," said Potter. "I celebrate that we have this gray area. Our show has changed to [not just incorporate more] country but bringing around sexy style too. I'm not afraid to shake it and dance on stage."
Grace Potter & the Nocturnals are on tour. For a complete list of dates and cities, check here.
By Nancy Dunham
Nancy Dunham writes about music for Country Weekly, AOL Music's site The Boot, The Washington Post, Relix and other publications.
Check out Grace Potter and the Nocturnals' new video for Paris (Ooh La La) below, and see vintage Grace in a video interview on OurStage from 2008.