Soundtrax: Ringing In The New Year by OurStage on Grooveshark
It's time to ring in the new year! 2012 has just about come to a close, and though it was a year that brought us everything from the sensational  "Call Me Maybe," to new Taylor Swift videos, we're ready to welcome 2013 with a fistful of brand new tunes. Check out this party playlist of must-haves for any New Year's Eve and get dancing.
More like this: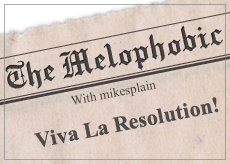 So the New Year is upon us, and that means many things: I need to start working on taxes, remember my trash day was changed from Mondays to Tuesdays and go to the gym more than once a week. Of course none of these are true resolutions, more like ideas that I probably won't follow through with. Regardless of my inability to dedicate myself to these lame self-promises in 2010 (oh by the way, it's pronounced twenty-ten), I asked a few of the artists on OurStage for their resolutions. Here are some of the top responses:
My new year's resolution is to let the world know that I am Elvis Presley reincarnated and to convince Jennifer Anniston to stop dating all the Mr. Wrong's and hook-up with her real soul-mate…ME!!!
-Chad Evan Todd
Well I have a few New Year's resolutions. The most music-related one is to stop bending over backwards for agents and club owners. After forty years of playing clubs and touring I finally realize you can't count on anyone looking out for you and your band but yourself. One will say "I can send you the rest of the money later…" or "we really want you back next month after we remodel…"-Derrick Big Walker
My New Year's resolution is to take up the accordion. Seriously, what's
more sexy than a lead singer who plays accordion? Happy New Year!
My New Year's resolution is to be more focused and to reach a broader audience with my NOT UR EVERYDAY MUSIC. While I was in the Army, I didn't have the opportunity to pursue my goals effectively. So now, since I do have that chance, I have nothing to lose. Don't follow your dreams…don't chase your dreams…live 'em. -Arson The Enigma
Jakob is going to loose some weight, but he probably will get fat again next year. Mikkel claims that he is going to stop drinking beers and booze, but it will only last for one or two days. Kristján is trying to be more emo, but in fact he doesn't know what that is. Gerhard's resolution is to eat more vegetables, he eats tons of meat and therefore he is always on the toilet.
-Born To Love Mary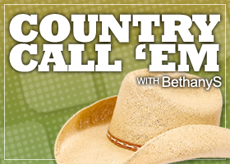 When you look back on 2009, there are many things to remember. Whether it be the historical inauguration of Barack Obama or the death of musical icon Michael Jackson,  2009 offered our world a plethora of moments to appreciate. In country music, 2009 was a year that not many of us can forget. Nashville may never fully recover from Kanyegate, never mind a few other choice events that will shape country music in the upcoming year.